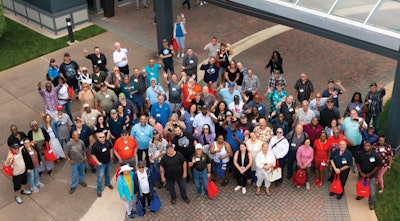 U.S. Xpress
U.S. Xpress recently honored 149 professional truck drivers for more than 218 million combined miles of safe driving. This group of elite drivers hit these safe driving milestones during the 2022 calendar year, and were honored this week in an awards ceremony in downtown Chattanooga, Tennessee, and a reception at the company's headquarters.
"Every year, we look forward to celebrating the professional drivers who are the backbone of our company," said U.S. Xpress President and CEO Eric Fuller. "These professionals all have decades of experience in making goods move better, and it's a privilege to bring them together for a few days of recognition and celebration."
This year, U.S. Xpress celebrated a history-making four 4 Million Milers:
Randy Earl: A back-to-back over-the-road Team Driver of the Year winner, Earl is a longtime trainer who has helped launch successful careers of other professional drivers.
Guy Moore: A professional driver for U.S. Xpress for 27 years, Moore has teamed with his wife, Linda Brown, for 20 years.
Robert and Kendra Kennedy: This husband-and-wife duo have been driving together for nearly 30 years, and have been with U.S. Xpress all that time.
In addition, U.S. Xpress honored 14 professional drivers who have driven 3 million safe miles, and 29 drivers for driving 2 million safe miles. Also recognized were seven Drivers of the Year, and one Trainer of the Year.
Drivers with 3 million miles to their credit include:
Carol Bell
Charles Lemmons
Domingo Sanchez
Donavon Cooper
Donet Benwarisingh
Herman Littig Jr
Jimmy Caudill
Lewis Benwarisingh
Linda Brown
Sita Sierra
Timothy Keiter
Tolly Taliaferro
Tracasa Cooper
William Siters
The Million Miler celebration is a two-day event hosted by U.S. Xpress for drivers and their guests, which has been a company tradition since 1995. In addition to the awards ceremony, drivers were celebrated by office employees in an Honored Driver Walk of Fame and breakfast at company headquarters followed by an afternoon of activities and socializing in downtown Chattanooga with office staff and company leadership. Each driver also received a personalized award and company merchandise, including Million Miler jackets.