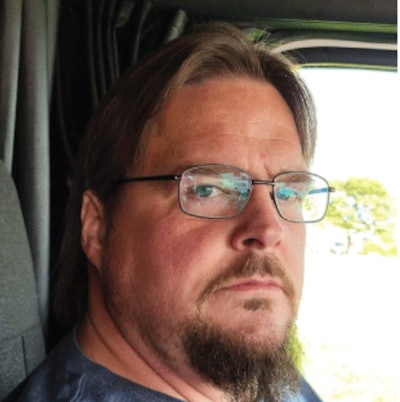 A trucker from Georgia has been honored for stopping to help an older woman laying beside a highway in the rain.
The Truckload Carriers Association named truck driver Don Cronic, from Alma, Georgia, a Highway Angel for stopping to help a woman who had a flat tire, had fallen and was laying on the side of the highway. Cronic drives for Menke Trucking out of Thomasville, North Carolina.
TCA explains:
On March 1, around 9 p.m., Cronic was driving on Highway 1 in Alma, Georgia, when he passed a car on the side of the road.

Don Cronic"I thought I saw someone laying on the ground," he said, but wasn't sure. As he drove on, he said, "It kept bothering me — was that really someone on the road?"

Cronic turned around and returned to the car, finding an 82-year-old woman on the side of the road. She had a flat tire, and had stepped out of her car in the rain, slipped and fallen. Her son later said his mother had laid on the side of the road for 30 minutes trying to yell for help, in the dark, in the rain.

"I picked her up and put her in my truck because it was warm," Cronic said. He also loaned her his phone so she could call her son, and then went out to her car and fixed her flat tire.

For his part, Cronic was happy to help, saying he was just glad she was not injured. Once he had her tire repaired, she drove home but asked him to follow her to make sure she would get home safely.

The woman's son, JT Walker, wrote to Menke Trucking to inform them of the situation, stating, "Momma tried multiple times to pay him for his help and he refused. I pulled up, obviously frantic, and ran to check on Momma thinking the worst only to find her in good spirits and unharmed. Before I could thank him or pay him for his help he was gone."
Since the program's inception in August 1997, nearly 1,300 professional truck drivers have been recognized as Highway Angels for the exemplary kindness, courtesy, and courage displayed while on the job. Thanks to the program's presenting sponsor, EpicVue, and supporting sponsor, DriverFacts, TCA is able to showcase outstanding drivers like Cronic.
Meet some other Highway Angels:
ABF Freight driver honored for actions when another truck crashes
Trucker honored for assisting driver, first responders at truck rollover
Maverick driver honored for aiding a man run over by his own truck