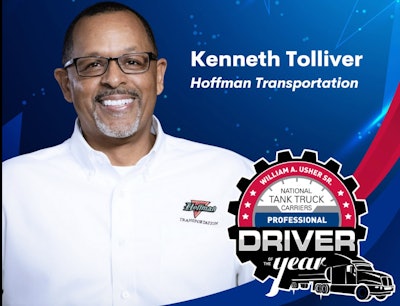 NTTC
A driver for G&D Trucking, Inc./ Hoffman Transportation, LLC, of Channahon, Illinois was named the Grand Champion of the National Tank Truck Carriers 2022-2023 Professional Driver of the Year contest.
Kenneth Tolliver was presented with the William A. Usher Sr. Trophy during the NTTC's annual conference held May 20-23 in Boston.
The contest is sponsored by Great West Casualty Company.
"We are delighted to award Kenneth Tolliver the Grand Champion title, and we're proud to recognize his exceptional safety record and commitment to the industry," said Ryan Streblow, president & CEO of NTTC. "The Professional Driver of the Year contest is a testament to the importance of safety in the tank truck industry, and Tolliver is a true role model for others to follow."
Other finalists included:
Robert Anderson, Florida Rock & Tank Lines
David Lepak, Quality Carriers
Robert Newsome, Cox Petroleum
David Powell, Usher Transport
Pamela Randol, Highway Transport
RELATED NEWS: Award winner tells what it takes to be an elite tanker driver
According to NTTC, Tolliver's "record of driving millions of accident-free miles within his many decades of commercial trucking experience is nothing short of exceptional. His unwavering commitment to safety and the industry is what makes him an outstanding professional driver."
As the face of the tank truck industry, Tolliver will represent NTTC at safety-focused events throughout the year and share NTTC's mission of safety and education with the public.