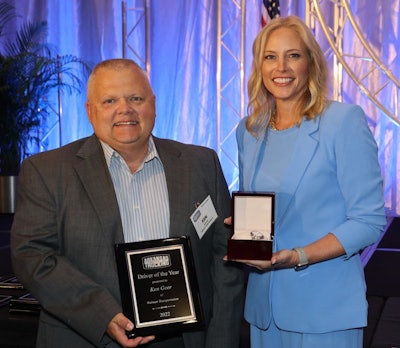 ATA
A driver who has amassed more than 4 million accident-free miles during his 34-year career was recently named the Arkansas Trucking Association's 2022 Driver of the Year.
Ken Geer, who has driven for Walmart Transportation since 2020, received his award during the association's recent conference in Little Rock.
Dedicated to safety in his professional and personal life, the former firefighter volunteers to run fireworks displays at Walmart Arkansas Music Pavilion and local football games. He's also a committed fundraiser for the Gravette Lion Band Boosters, according to the ATA
The association said it awards the honor to a driver based on "their strong and noteworthy professional qualifications, experience and performance."
Also during the awards luncheon at the conference, ATA named Brett Graves its Safety Professional of the Year and Samuel Satterfield its Maintenance Professional of the Year.