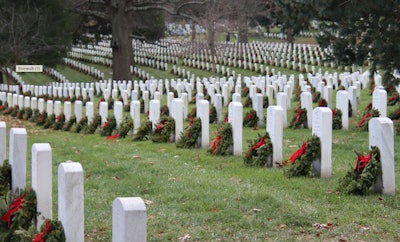 Wreaths Across America
As part of its recent 10th Annual Stem to Stone event, Wreaths Across America recognized J.B. Hunt Transport Inc., as the seventh recipient of the organization's James Prout Spirit of Giving Award. Company representatives were presented the award by the WAA transportation team at the nonprofit's annual weekend event held in Maine, where it is headquartered.
The award is named in memory of James Prout, owner of Blue Bird Ranch Trucking of Jonesboro, Maine. Prout was the first person to volunteer to haul wreaths to Arlington National Cemetery when the program was in its infancy. The award is given semi-annually to a deserving professional truck driver, company or organization that has supported charitable causes in a way that will affect generations to come.
J.B. Hunt has a longstanding tradition of honoring our nation's fallen heroes, and WAA's mission is part of that legacy. The company plays a critical role in hauling sponsored wreaths across the country. In 2022, J.B. Hunt handled 42 shipments, of which 32 were intermodal loads. These loads were shipped to the West Coast via rail, helping WAA save on over-the-road load capacity and cost. In addition to J.B. Hunt donating their services for the intermodal loads, they were instrumental in securing support from BNSF and Norfolk Southern.
"This will be J.B. Hunt's 10th consecutive year to participate in Wreaths Across America, and each year it sparks a lot of excitement among our employees," said Brad Hicks, executive vice president of Highway Services and People at J.B. Hunt. "Supporting our veterans is a privilege, and it's important that we remember their sacrifices made to preserve our freedoms. We are very humbled to receive this special recognition from Wreaths Across America and look forward to continuing this tradition."
The trucking industry is vital in helping WAA move the mission to more than 4,000 participating locations across the country each December.
"Without the transportation community and companies like J.B. Hunt, who provide generous donations of time, equipment and services, our mission simply would not be possible," said Karen Worcester, Executive Director of WAA. "The work that our Honor Fleet partners do year-round encourages new participation and support for the mission, not only in their organization but in the industry. They are true friends, for which we are grateful."
This year, National Wreaths Across America Day will be held on Saturday, Dec. 16. To support a cemetery near you, click here and type in your town and/or state. For more information about WAA, visit www.wreathsacrossamerica.org.