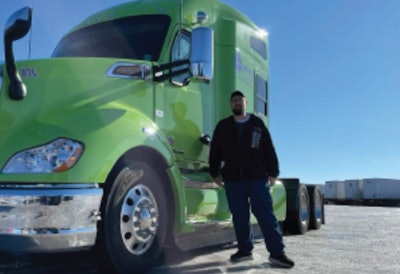 A trucker from Minnesota has been recognized for helping a boy ho got lost while taking a shortcut.
The Truckload Carriers Association named truck driver Jesse Harlander, from Holdingford, Minnesota, a Highway Angel for contacting police and helping a lost 12-year-old boy at night in a cemetery. Harlander drives for Brenny Specialized, Inc out of St. Joseph, Minnesota.
TCA explains:
Jesse Harlander from Holdingford, MinnesotaOn April 11, Harlander arrived at a large cemetery in Indianapolis, where he would be delivering an oversized load of granite first thing the next morning. In order to be ready for the early start, he parked his truck in the cemetery and settled in for the evening, reading a book. When it was dark, around 8:30 p.m., he heard a knock at his door, and discovered a 12-year-old boy lost and scared, standing outside his truck. He rolled down his window and asked if he needed help.

"He said yeah — help me — get me out of here!" the 25-year trucker said.

So, Harlander called 911 and alerted police to the child's situation. He later found out from police that the boy had been heading to a playground, decided to try to take a shortcut through the cemetery and got lost. While the boy and Harlander waited for police to arrive, he allowed the boy to look inside the cab of his truck. The boy told him he wanted to play in the NBA someday. Police eventually arrived and the boy was returned to his home safely.

"It was pretty bizarre," Harlander said. "I'm glad he got out of there."
Since the program's inception in August 1997, nearly 1,300 professional truck drivers have been recognized as Highway Angels for the exemplary kindness, courtesy, and courage displayed while on the job. TCA said thanks to the program's presenting sponsor, EpicVue, and supporting sponsor, DriverFacts, TCA is able to showcase outstanding drivers like Harlander.