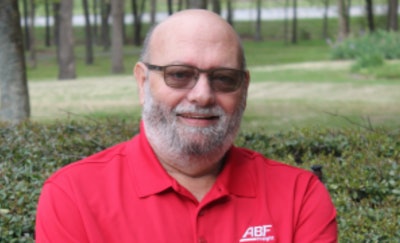 A trucker who is a former EMT and firefighter has been recognized for his actions at the scene of a crash of a tractor-trailer in West Virginia.
The Truckload Carriers Association recently named truck driver David Williams, from Yadkinville, North Carolina, a TCA Highway Angel for stopping to help rescue a fellow driver when he crashed his truck and was trapped inside. Williams drives for ABF Freight out of Fort Smith, Arkansas.
TCA explains:
David WilliamsOn July 12, Williams was driving northbound on Interstate 77 toward Princeton, West Virginia around 7:27 a.m. As he approached a curve, a tractor-trailer traveling southbound lost control and proceeded to flip into the median.

"I was able to get stopped and stop the traffic and (the crashed truck) stayed in the median," Williams said. "I took off running after I got the traffic stopped on the interstate. The guy was screaming 'I need to get out of here!' and I said 'Just hold on, take it easy, we're here to help you.'"

Williams and several other passersby were able to pull the pinned and injured driver through the broken windshield. A motorcyclist driving by stopped and told them he saw fire coming from the truck. While Williams cared for the injured crash victim, he gave the motorcyclist a fire extinguisher to put out any flames and waited for the emergency officials to arrive. A former EMT and firefighter for 17 years, Williams said that he never hesitated to stop and help.

"This is just in my blood," he said. "I can't just let something like that go by me if I can do something to help someone else."
Since the program's inception in August 1997, nearly 1,300 professional truck drivers have been recognized as Highway Angels for exemplary kindness, courtesy, and courage displayed while on the job. Thanks to the program's presenting sponsor, EpicVue, and supporting sponsor, DriverFacts, TCA is able to showcase outstanding drivers like Williams.