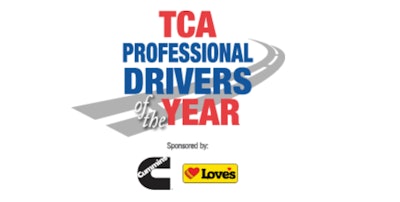 Truckload Carriers Association
Truckload Carriers Association is accepting nominations for its TCA Professional Drivers of the Year awards now through Dec. 8.
The awards program celebrates five drivers with a prize of $20,000 per driver and recognition at TCA events and publications throughout the year.
Nominees are expected to show a commitment to safety, demonstrate leadership on and off the road, and contribute meaningfully to the success of their companies or to the industry. Drivers must be nominated and employed by a TCA carrier member.
To submit a nomination visit www.tcaprofessionaldriversoftheyear.com. Winners will be recognized during TCA's Annual Convention in Nashville from March 23 to 26, 2024.
"We are thrilled with the success of the revamped TCA Professional Drivers of the Year awards program," said TCA President Jim Ward. "We are proud to shine a spotlight on our industry's incredible truck drivers who not only tirelessly deliver goods and keep our economy moving, but they also make amazing contributions within their communities and at home. We also extend our heartfelt appreciation to Loves and Cummins for their support, which has been instrumental in making this program possible throughout the years."
"Every day, the Love's Travel Stops' team strives to make life on the road easier for professional truck drivers," said Jon Archard, Love's Travel Stops' vice president of Fleet Sales. "These underappreciated heroes impact each and every one of us as they perform one of our country's most demanding and important jobs. We are honored, once again, to recognize those drivers who set the highest standard for the industry mile after mile."
José Samperio, vice president and general manager of the North American On-highway business for Cummins Inc. said, "Many truckers are responsible for more than just safely transporting the goods we rely upon in our daily lives. When they aren't logging miles, they are also responsible for community involvement, peer leadership, and improving their respective company cultures. Cummins is honored to continue to support the TCA Professional Driver of the Year program that rewards those drivers who go above and beyond to make a positive difference in the world around them."