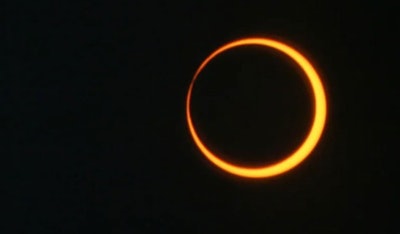 NASA
Of all things, a solar eclipse Saturday could cause heavy traffic and travel delays on highways in several western and southwestern states so truckers ought to plan accordingly.
An annular solar eclipse is expected to attract thousands of viewers to locations along its 90-mile-wide path of maximum obstruction from the Pacific coast of Oregon to Texas' Gulf coast.
At least one state is expecting hundreds of thousands of people to gather along the path of the eclipse to see the moon pass in front of the sun turning it into a dramatic ring of fire.
The Utah Department of Transportation posted on its Facebook page that it's expecting "more than 300,000 visitors for the eclipse." Heaviest traffic is expected in the Richfield and Medicine Hat areas, and UDOT warns of delays on Interstate 15, Interstate 70, US 89, and US 191.
"We encourage eclipse watchers to stay an extra day if possible to avoid what our traffic engineers expect to be several hours of delays directly after the eclipse," said UDOT on Facebook.
The agency also warns those viewing the eclipse to no park on the shoulder of roads to do their viewing. "Plan ahead to be in a safe place to watch."
UDOT goes so far as to warn visitors and others to, "Be prepared with supplies like food, water and gas. Local supplies may be limited before and after the event."
In a special online presentation on the eclipse, NASA shows the path of it and lists significant times for cities along its path.
For example, NASA says the sun will be partially eclipsed in Eugene, Oregon at 8:06 a.m. PDT and progress to maximum obstruction occurring at 9:18 a.m. PDT.
Not all of the U.S. will see the maximum effects of the eclipse. Sections of the Great Plains and the South will see about 50% of the sun obscured; the Midwest and Southeast about 40%; the Northeast and Mid-Atlantic states, about 20%; and New England, just 10%.
If you're not in an area that will provide maximum viewing of Saturday's eclipse, not to worry. There will be an even more dramatic total solar eclipse April 8.