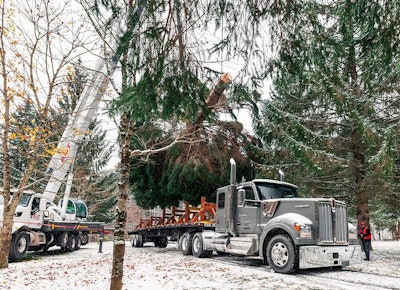 Kenworth
The 2023 U.S. Capitol Christmas Tree, a 63-foot-tall Norway Spruce, was harvested Nov. 1, from the Monongahela National Forest in West Virginia, and now a Kenworth 100th Anniversary T680 Signature Edition, with a newly installed graphics wrap, will transport the tree to the West Lawn of the U.S. Capitol Building.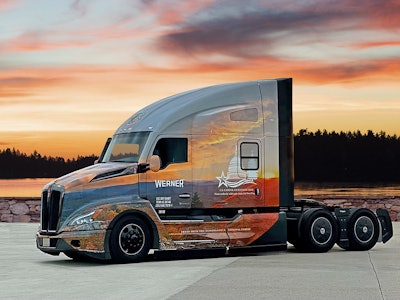 The Capitol Christmas Tree Tour begins Saturday, Nov. 4, with a special celebration in Elkins, West Virginia, home to the headquarters of the Monongahela National Forest. It will conclude Nov. 17, when the tree, named "wa'feem'tekwi" by the Shawnee Tribe, is delivered to the West Lawn of the U.S. Capitol Building. The name means "bright tree" in the Shawnee language and is pronounced phonetically 'wa thame tech we."
"Endlessly Wild & Wonderful," is this year's tour theme and the message is prominently displayed on the truck's driver and passenger sides. The design also features the U.S. Capitol Building, U.S. Capitol Christmas tree, and a background of the sunset overlooking the Monongahela National Forest.
Werner Enterprises is the official designated carrier for the 2023 tour. The company selected drivers Jesus Davila and Tim Dean for the honor of transporting the special tree.
Davila and Dean will drive the T680 Signature Edition equipped with a 76-inch sleeper and the PACCAR Powertrain featuring the PACCAR MX-13 engine rated at 455 horsepower, PACCAR TX-12 automated transmission and PACCAR DX-40 tandem rear axles to a full slate of community celebrations en route to the nation's capital.
Werner Enterprises will also deliver thousands of handmade ornaments made by West Virginians along with smaller trees for military families stationed at Joint Base Andrews.
"The U.S. Capitol Christmas Tree is a national treasure and Kenworth is proud to assist with the transportation effort for the 10th consecutive year," said Jim Walenczak, Kenworth assistant general manager for sales and marketing. "We look forward to seeing this special tree all lit up at the nation's capital this holiday season."
The full 2023 U.S. Capitol Christmas Tree Tour schedule of events in West Virginia includes:
Nov. 4: Elkins Depot Welcome Center, Elkins
Nov. 5: Downtown Summersville, Summersville
Nov. 6: Mitchell Chevrolet, Marlinton
Nov. 7: Tamarack Marketplace
Nov. 8: High Lawn Elementary School, Huntington
Nov. 9: White Palace at Wheeling Park, Wheeling
Nov. 10: 84 Lumber, Morgantown
Nov. 11: Mylan Park (a.m. event) and West Virginia University (p.m. event), Morgantown
Nov. 12: Swilled Dog/Raymond's Gymnastic Center, Upper Tract
Nov. 13: Davis Yard, Davis
Nov. 14: WV Schools for the Deaf and the Blind, Romney
Nov. 15: Harpers Ferry Job Corps Center, Harpers Ferry