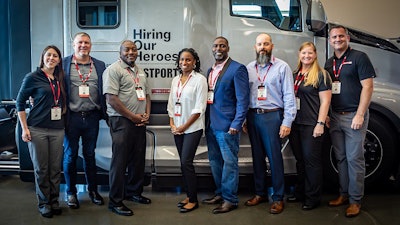 Neworth
Voting is open for "Transition Trucking: Driving for Excellence," a program dedicated to finding America's top rookie military veteran driver. The program recognizes top drivers who have made the successful transition from active duty to driving for a commercial fleet.
Kenworth has again teamed with Fastport and the U.S. Chamber of Commerce Foundation's Hiring Our Heroes Program to support this special recognition program. For the eighth straight year, Kenworth is providing the top award. For 2023, Kenworth is awarding the winner a Kenworth 100th Anniversary T680 Signature Edition. The special T680 is equipped with a 76-inch sleeper and the PACCAR Powertrain featuring the PACCAR MX-13 engine rated at 455 horsepower, PACCAR TX-12 automated transmission and PACCAR DX-40 tandem rear axles.
The public is invited to cast their vote online on the Transition Trucking website (www.transitiontrucking.org/vote.). The voting is an important determiner for the Selection Committee as they make their ultimate choice for the next Transition Trucking award winner.
The winner will be announced on Dec. 15 at the U.S. Chamber of Commerce in Washington, D.C.
Todd Kraus, U.S. Army (CW3), Werner Enterprises
Kraus served nearly 22 years in the Army. Retired as a Chief Warrant Officer, Marine Deck Officer, Kraus was in the "Army's Navy," stationed at an Air Force base where he transported the Marines and taught the Coast Guard. As a transportation officer in the Army, he was trained for any position in logistics or transportation. When Kraus retired from the Army, he found work at the U.S. Postal Service. Upon retirement from the Postal Service, he wanted to earn his CDL and decided that it was time to hit the road and see the country from the driver's seat in a big rig.
Brandon Meredith, U.S. Army (E-7), Slay Transport
Meredith is a native of Spring Valley, Illinois, and resides in North Carolina with his wife and two daughters. Meredith retired from the U.S. Army on March 31 after 20 years of active service. He earned many awards and decorations and spent 13 years in the Special Operations Forces. He is employed at Slay Transportation as a tanker driver and delivery professional for liquid products. His goal within the transportation industry is to become an owner-operator and mentor with his current company and become a subject matter expert in his field.
Ondrae Meyers, U.S. Marine Corps (E-7), CRST
Meyers was born in Trenton, New Jersey where he lived with his single mother and younger brother. Wanting to expand his opportunities, Meyers joined the Marine Corps after graduating from high school, which turned into a 22-year career. Meyers is a combat veteran who served tours in both Iraq and Afghanistan, took part in humanitarian efforts in Indonesia, served as a section leader in the Wounded Warrior Battalion - East, and served 11 years overseas in the Pacific where he met his wife with whom he now has two children. Meyers' military occupational specialty was motor transport and it was the spark that lit his passion for driving. After retiring in July 2021, Meyers obtained his CDL through Troops into Transportation and started on his new goal of putting to use his love of driving to make a career in transportation.
Jessica White, U.S. Army (E-5), Stevens Transport
White hails from Conyers, Georgia. She enlisted at 19 in the Army to serve as a motor transport operator. The highlight of her career was serving a 25-month tour in Germany where she was responsible for driving a heavy-transport truck in the transportation of equipment, missiles, and live ammunition throughout 15 countries of Europe. During this same tour, White was selected from amongst many other drivers to drive for the U.S. Secretary of Defense on a VIP visit to Belgium. She deployed from Germany in support of operations in Kuwait for nine months. White is married with no children, and her hobbies include cooking, playing basketball, traveling, and hiking. In her spare time, she has earned nine credits toward her Associate's Degree.
LaTravis Wilcox, U.S. Marine Corps (E-8), Prime Inc.
After 23 years of service and retiring as a First Sergeant, Wilcox retired from military service. He entered the Marine Corps in 1997 and started a varied military career in roles from motor vehicle operator, aircraft avionics technician, and drill instructor at various leadership levels. After a successful tour and several deployments, Wilcox was able to stay active and involved in "making Marines" at Officer Candidates School and the University of Mississippi serving as the assistant Marine officer instructor for the Naval Reserve Officers Training Corps.