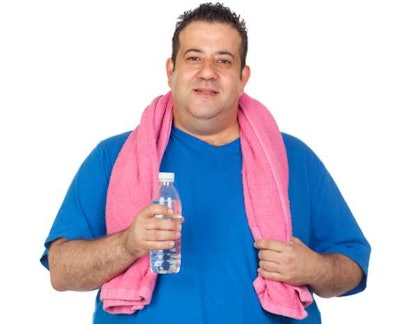 Exercise can be, by its very nature, hard work. But, if you are already out of shape, it can be an even more difficult task … though not impossible.
For the overweight person in a sedentary job – as trucking often can be – the thought of exercising is as daunting as the thought of changing one's eating habits. Going to a gym or health club may be the last thing you wish to do. And, exercise can sometimes be uncomfortable if not downright painful.
Still, it can be done.
These exercise options will not get you ready for the next Olympics, but they can get you moving in the right direction.
Walking
Many wellness organization – Centers for Disease Control and American Heart Association for example – suggest walking as one of the best exercises for anyone. It's especially beneficial for those who are overweight; you get your heart rate up but is less stressful on your joints. You can do it anywhere — even inside during foul weather – and all you really need is a good, supportive pair of walking shoes.
Water Aerobics
This is just like walking, but wetter. Many community pools, YMCAs or schools/colleges have programs that get folks moving in the water, which offers resistance but is supportive at the same time. Simply walking in waist or chest deep water is good for your heart and goes easy on your knees and hips. Some program even offer actual exercise workouts in the water. See what the Mayo Clinic suggests.
Exercise Ball
Before we go any further on this one, overweight folks can use these valuable exercise tools. Jut look for one rated for more weight. These large balls are good for resistance training, crunches, sit-ups. Just sitting or laying on them and moving can help strengthen stomach muscles. Try some of these exercises with a ball, but be sure you feel comfortable and don't do too much.
Functional Exercises
Just doing what you do every day – but doing it more often – can be especially helpful. For some overweight men and women, getting up out of a chair is stressful. Do it more times than you have to and it becomes a good exercise. Same with stepping up and down off the curb, or, in the case of a driver, in and out of the cab of your truck. Using the stairs can be especially helpful, and stairs are everywhere. In all cases, your using your body's weight to help you lose weight.
Whatever you do, be sure you do it sensibly. Consult your family physician or talk to your fleet's fitness/wellness coach — if you have one — before you start any exercise program.