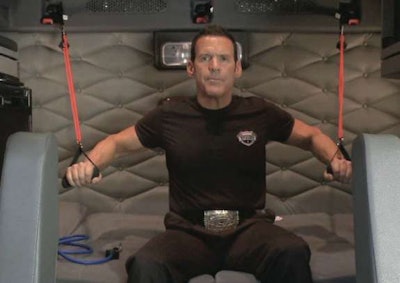 Truckers visiting the Petro Stopping Centers location on I-81 (Exit 52/I-76, Exit 226, 1201 Harrisburg Ave, Route 11) in Carlisle, Penn. Tuesday, Sept. 23 will have an opportunity to get a free fitness tune-up as part of the nationwide Driver Wellness Tour.
The daylong event features Bob Perry, The Trucker Trainer™, Freightliner Trucks, Team Run Smart, Rolling Strong Wellness Coaches and representatives from the Truckers Rolling Against Hepatitis C campaign. They'll provide free wellness services for professional drivers, including workout sessions with Rolling Strong's CDL Wellness Coaches and free rapid hepatitis C virus (HCV) testing.
The Carlisle event is one of four to be held between now and the end of the year.
Truckers can receive a fitness checkup, including blood pressure, weight, and body mass index screenings. They can also participate in workout sessions with Rolling Strong CDL Wellness Coaches.
Each tour stop also features several wellness efforts, including Perry's Big Rigger Fitness Challenge, sponsored by Michelin. Drivers compete nationally to pump the most reps using a Michelin truck tire. The top driver for each tour day will win a FIT System, Freightliner In-Cab Training System and Big Rigger T-shirt. Perry will be competing against the top contenders at the Driver Wellness Tour finale on Dec. 2, in Ontario, Calif.
Drivers will also have a chance to work out with the FIT System, Freightliner In-Cab Training System, installed in a new Freightliner Cascadiaand learn more about Freightliner's Team Run Smart online community.
Representatives from the Truckers Rolling Against Hepatitis C campaign will provide ionformation about HCV and testing drivers at no cost. Drivers will be offered testing with OraSure's OraQuick HCV Rapid Test.
Other upcoming stops include:
Oct. 7 — Bordentown, NJ, Petro Stopping Centers, I-295 Exit 57, NJ Turnpike, Exit 7 402 Rising Sun Rd., Bordentown, NJ
Nov. 4 — Tampa, FL, TravelCenters of America, I-4, Exit 10, off Mango Rd., 11706 Tampa Gateway Blvd. Tampa, Fla.
Dec. 2 — Ontario West, CA, TravelCenters of America I-10, Exit 57, Milliken Ave. 4265 East Guasti Road Ontario, Calif.
TravelCenters of America and Petro Stopping Centers have 120 sites with walking trails and 53 locations with on-site fitness rooms or outdoor fitness stations, including 26 sites with outdoor basketball courts. The company has also developed StayFit, a combination of nutritious food options, exercise and information to keep professional drivers on the road to better health.