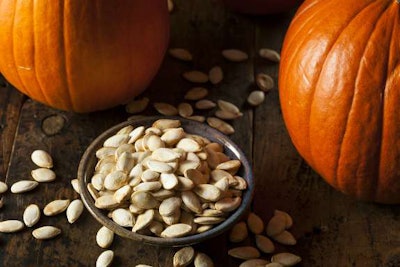 This is the time of year that pumpkins enjoy their moment of glory, primarily as carved up Halloween decorations on front porches everywhere.
However, the process of creating a jack-o-lantern can yield something important when it comes finding nutritious snacks that are good for the road and good for you.
Pumpkin seeds, it turns out, are a great source of some vitamins and minerals and are tops when it comes to disease-preventing antioxidants.
They are high in vitamin E and are loaded with minerals like manganese, zinc, phosphorous, copper, iron and magnesium.
And, when roasted with a little cooking oil and lightly salted, are pretty darn tasty.
Aside from eating them out of hand as a snack, you can:
Sprinkle them on mixed green salads.
Chop and add them to your favorite hot or cold cereal.
Grind them with fresh garlic, parsley and cilantro leaves, mix with olive oil and lemon juice to make salad dressing.
Put them in your oatmeal raisin cookie or granola recipe.
Add them to sautéed vegetables.
Grind them and add them to your next batch of burgers
A quarter cup of pumpkin seeds contains about 180 calories, and when eaten in their shells provide a great source of fiber.
Here's how to prepare them:
Preheat the over to 375
Once out of the pumpkin, rinse them in cold water and remove all of the weird, stringy pulp.
Pat them dry.
Add salt, pepper and a little olive oil for starters.
You can call on just about anything in your spice cabinet toad more flavors: paprika, chili powder, curry powder, or toss with fresh herbs like chopped rosemary or lightly baste them with a BBQ sauce or the hot sauce of your choice.
Stir form time to time.
Remove when they appear toasted and golden.
Let cool and devour or package in a zip top bag for your next road trip.