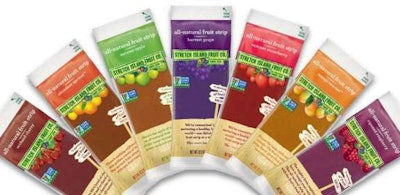 Often the snacks that you take on the road can be:
Healthy but not tasty
Taste great but undermine your efforts to eat well and lose weight
Packed with sugars and/or sodium
Healthy. Tasty. But, expensive.
Enter fruit leather. You may remember these snacks from your childhood, but today's chewy fruit treats are better for you and not bad to have with you as you travel.
There are many brands on the market, including several products from the Stretch Island Fruit Company in Washington State. They make traditional Fruit Strips and bite-sized Fruit Chews. Both products are made from only natural ingredients and are GMO-free, if that's important to you.
As for nutrition, a package of two Fruit Strips contains 90 calories, no sodium, no fat and equals a half serving of fruit. Not bad.
Reviewers on Amazon give them a 4.3 out of 5 stars.
You can buy them online direct from the company for $3.19 for 8 packages. They are also available at major grocery chains and big box stores.
But, if want to save money and are handy in the kitchen, it's not too difficult to make your own fruit leather.