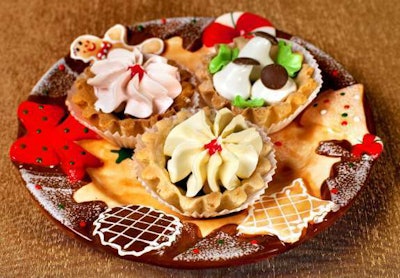 If eating were like the NFL
Most of the year is like the regular season
The recently passed Thanksgiving would be the playoffs
Christmas then is the Super Bowl of food
Are you ready to survive the "big game" and not need a new uniform afterwards?
Here are a few pre-game scouting tips when it comes to Christmas eating:
* Try to balance out your calories over the day or at least over a couple of days; cut back on high-calorie foods before the "big game."
* Nix the snacks. What will it be, chips and dip or Grandma's epic pumpkin pie? Save your calories for dinner and dessert.
* Be choosy at the buffet. All foods are not created equal, so only eat the ones you like the best. Again, no need to load up on calories with deep-fried lard balls just because they are there.
* Load up on fresh fruits and vegetables, but go easy on them if they are swimming in cheese sauce or hollandaise. Salad, yes. Gloppy, creamy, calorie-dense dressing, no.
* Have a strategy. Before you even walk in the front door for family Christmas, make a deal with yourself about what you will skip (a dozen cocktail wieners swimming in BBQ sauce) in order to have gravy on your mashed potatoes. One is OK. Both can mean an extra hole in your belt. Or, say yes to both pie and 20 more minutes on the stair-stepper the next day.
Keep this in mind: the average American gains about one pound of weight during the holidays. But, that weight, for most of us, remains and is not shed year to year.