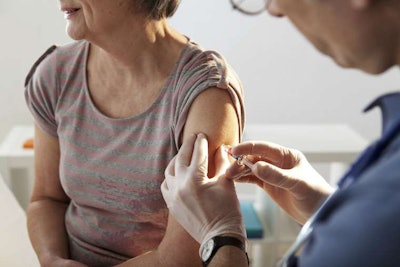 Flu activity in the U.S. continued to increase through the end of December and is expected to trend upwards over the coming weeks, according to a FluView report from the Centers for Disease Control and Prevention (CDC).
During the last week of December, the proportion of individuals seeing their doctor with flu-like symptoms increased to 3.4 percent, which is above the national baseline of 2.2 percent.
The organization is only recommending injectable flu shots this season. Some other changes are:
Flu vaccines are updated to better match the current circulating viruses
There are some new vaccines on the market
Individuals with egg allergies no longer have to wait 30 minutes after they receive their vaccine
The most recommended way for avoiding the flu is to get a flu shot. The recommendation is for everyone 6 months and older to get vaccinated each year by the end of October. However, if you have not yet received a shot, it's not too late.
Seasonal flu viruses begin as early as October and may continue to as late as May. The months between December and March are considered the peak months for flu activity.
The CDC says you can protect yourself from the flu by:
Avoiding individuals with flu-like symptoms
Washing your hands to reduce the spread of germs
If you have the flu, stay home from work to avoid spreading the flu
The St. Christopher Trucker's Development and Relief Fund is offering free vaccines for all truckers with a current CDL. Truckers may receive a free flu vaccine by printing a voucher from the fund's site and taking it to a Kroger, The Little Clinic or Walgreen's. Drivers must show their CDL when they present the printed voucher.