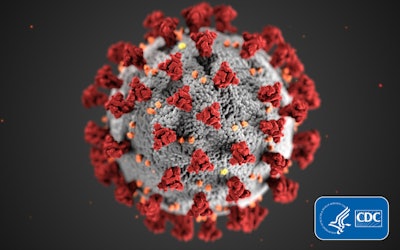 The U.S. as a country, as well as its businesses and individual citizens need to take seriously the coronavirus COVID-19, which started in China and has spread worldwide, claiming some 2,770 lives. That's the outlook of top medical officials.
One member of the trucking industry is paying heed to the possibility of the coronavirus spreading in the U.S. — there have been 57 cases reported thus far — and is warning its drivers to take precautions and protect themselves from the disease.
Capital Express Lines,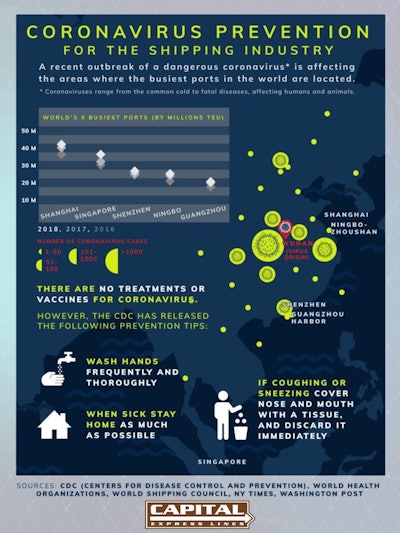 which has headquarters in Loomis, California and its main terminal in nearby West Sacramento, is being proactive on behalf of its drivers. On Wednesday, Feb. 26, the carrier, which has 95 power units and 92 drivers, posted an eye-catching infographic to its Facebook page. In it, the company delivered a simple message:
"Everyone please remember to wash your hands and take any precautionary measures that you can in order to not catch and spread this any more than it already has."
Sonny Samra, president of Capital Express Lines, said the goal was to inform drivers about the seriousness of the issue and give them information they can use on the road to protect themselves.
"Being out on the road as they are, drivers are exposed to more than those of use who aren't." said Samra. "This is a serious issue and we needed to bring awareness to them. When. everyone has the information, that's a good thing."
The infographic Samra shared gives some brief background on the outbreak and delivers the simple prevention tips as those shared by the Centers for Disease Control and Prevention.
'(R)eally a question of when it will happen'
Wednesday night, Feb. 26, President Trump announced Vice President Mike Pence will oversee the government's efforts to combat the disease. The president's remarks came as the Centers for Disease Control and Prevention disclosed a new case of the COVID-19 disease in California that could represent the first person-to-person transmission in the United States, according to NPR.
During a briefing on the status of the coronavirus earlier this week, officials at the CDC warned Americans against complacency, and like Capital Express Lines, offered suggestions about what people can do to protect themselves.
"It's not so much a question of if this will happen anymore," said Dr. Nancy Messonnier of the CDC. "But more really a question of when it will happen — and how many people in this country will have severe illness."
Messonnier warned the U.S. public should also be ready to adapt to what could be disruptive changes.
"I had a conversation with my family over breakfast this morning," Messonnier said Tuesday, Feb. 25. "And I told my children that while I didn't think that they were at risk right now, we, as a family, need to be preparing for significant disruption of our lives."
The CDC reminds the public there is no vaccine to prevent coronavirus disease 2019. The best way to prevent it is to avoid being exposed to this virus. However, as a reminder, CDC always recommends everyday preventive actions to help combat the spread of respiratory diseases, including:
Avoid close contact with people who are sick
Avoid touching your eyes, nose, and mouth
Stay home when you are sick
Cover your cough or sneeze with a tissue, then throw the tissue in the trash
Clean and disinfect frequently touched objects and surfaces using a regular household cleaning spray or wipe
Follow CDC's recommendations for using a facemask.

CDC does not recommend that people who are well wear a facemask to protect themselves from respiratory diseases, including COVID-19.
Facemasks should be used by people who show symptoms of COVID-19 to help prevent the spread of the disease to others.

Wash your hands often with soap and water for at least 20 seconds, especially after going to the bathroom; before eating; and after blowing your nose, coughing, or sneezing.

If soap and water are not readily available, use an alcohol-based hand sanitizer with at least 60% alcohol. Always wash hands with soap and water if hands are visibly dirty.
For more prevention information, see the CDC's Handwashing website
People who think they may have been exposed to COVID-19 should contact their healthcare provider immediately, according to the CDC.
What the coronavirus COVID-19 means to trucking
Matt Cole, our colleague at Commercial Carrier Journal and Overdrive took a deep look into what the outbreak of the coronavirus COVID-19 means to the trucking industry. It seems there's some optimism to be found amid the caution and concern. Cole writes:
"Though the spread of the COVID-19 coronavirus in China appears to be slowing, there's still likely a looming impact to be felt in the U.S. in terms of freight demand, especially at West Coast ports. Analysts contend, however, that any disruption in freight volume can be made up as the year progresses.
"'It's too early yet to measure container volumes, but we'll know within a week or so," says Noël Perry, chief economist for Truckstop.com. "Anecdotally, there have been quite a few disruptions in production in China and South Korea, but how big that is, we don't know." So far, the outbreak has had little impact on the U.S. trucking, he said."
Read Cole's complete story on CCJ.
___
David Hollis is editor of Truckers News. His email is davidhollis@randallreilly.com