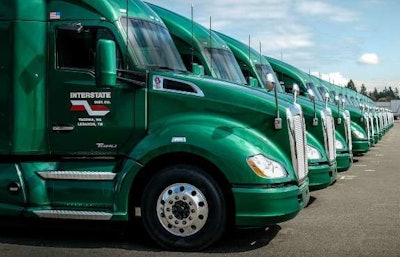 Boyd Bros. Transportation of Clayton, Ala., and Interstate Distributor Co. of Tacoma, Wash. are the latest trucking companies to announce pay raises for their drivers.
At Boyd Bros. (92nd on the Commercial Carrier Journal Top 250 list) drivers can now average 54 cents per mile. The company also announced a seasonal bonus of 2 cents per mile for company drivers and 4 cents per mile for lease purchase drivers.
Other recent changes to the company's pay program include increased vacation pay, tarp pay at $20-$26, a higher sign-on bonus for experienced flatbed drivers and one a referral bonus. Boyd Bros. also added a bonus program, which rewards drivers for MPG and compliance.
Boyd Bros. employs some 1,116 drivers.
At Interstate Distributor Co., the new pay package will allow teams to earn up to an additional 6 cents per mile.
Interstate's (72nd on CCJ's Top 250 list) new pay package allows a team driver with 6 months experience to achieve this through their base rate (mileage + per diem) and a monthly bonus of up to 6 cents per mile.
Interstate employs about 1,700 drivers.