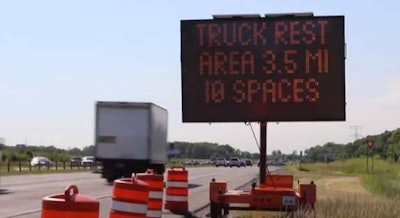 A new system uses digital video, in-cab messaging and electronic signs on the roadway to help truckers find parking along the I-94 corridor west and northwest of Minnesota's Twin Cities.
The project was demonstrated to partners today.
Three Minnesota Department of Transportation (MnDOT) rest areas are now equipped with automated truck stop management systems that tell truck drivers when parking spaces are available. The technology is active at:
The Elm Creek Rest Area, on I-94 two miles north of I-494,
The Big Spunk Lake Rest Area between Albany and Avon,
The Enfield Rest Area near Monticello.
A fourth site is planned at a private commercial truck stop.
According to a statement from MnDOT, the system uses a network of digital cameras to monitor parking availability. In-cab messaging and changeable message signs a few miles ahead of the rest area can help truckers decide when to stop and rest. Dispatchers can also access a website and relay the real-time information to truckers.
The technology will improve safety, lead to better trip and operations management by drivers and carriers, according to John Tompkins, MnDOT project manager. He said it will also and help MnDOT and private truck stop owners manage their facilities more effectively,
"So far, the results have been positive. We've had 95 percent accuracy in determining the availability of spaces," he said.
Tompkins said providing the number of available parking spaces at each stop will help drivers determine if they should stop at the current location or if it's safe to continue to the next safe place to park.
"We have over-capacity in some areas, so this information will also help MnDOT structure its parking availability," he said.
Tompkins said the system is in the preliminary phase through December. Results will determine if the system can be expanded.
"We know truck parking is a serious issue along the highway system in the country," said Tompkins.
"Drivers on the road for more than eight hours have twice the risk of crashing compared to those driving for a shorter period of time."
The MnDOT and the Federal Highway Administration funded the project. The University of Minnesota's Center for Transportation Studies developed the technology. Data is supplied by SmartPark for Trucks.