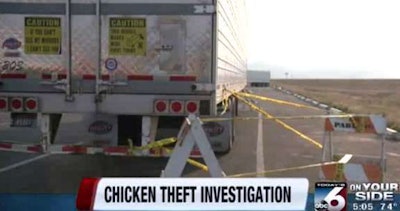 Police have in custody the driver sought in connection a trailer load of chicken abandoned in a Montana truck stop.
Nampa, Idaho Police said Christopher L. Hall, 42, was located in Meridian Friday afternoon. The truck he was driving was found abandoned at a Wal-Mart on Franklin Road in Nampa.
Hall has not been charged with any crimes related to the reported theft at this time, but police said the investigation will continue.
Officials say the 37,000 pounds of chicken left unattended was disposed of in a landfill Friday morning.
An Idaho TV station reports Hall picked up the load of chicken in Springdale, Ark. on Aug. 20, and was supposed to have dropped it off in Kent, Wash.
Hall is said to have contacted Dixie River Freight in Nampa, Idaho asking for more money in return for the truck, 53-foot refrigerated trailer and chicken. The company refused and reported the equipment and cargo stolen on Aug. 27.
He appears to have left the trailer at the Flying J Truck Stop at I-90 and highway 200 north near Missoula as much as a month ago.
Alisha Johnson, an environmental health specialist for the Missoula City-County Health Department, said the trailer containing the chicken was sealed at about 8:30 a.m. today and towed to a landfill where it was unloaded.
Johnson said a team from West Central Environmental Consultants of Missoula cleaned the trailer and secured the site.
Someone from the company Thursday said they could not comment on the ongoing investigation, but did confirm only the trailer had been recovered.