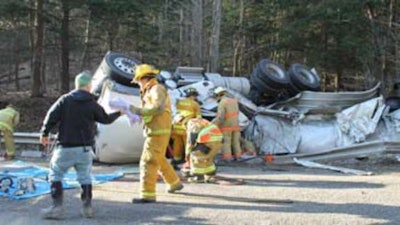 A driver from Oil City, Penna, has been named a Highway Angel by the Truckload Carriers Association (TCA).
William Hunt, who drives for Crossett, Inc., of Warren, Pennsylvania, is recognized for helping another truck driver whose safety was in jeopardy after a serious accident earlier this year.
On was April 21 at about 7:45 a.m. Hunt was driving along Route 59 near Warren, on his way to pick up a load, when he came across a tanker truck that had left the roadway and struck a large rock and a guard rail. The tractor had flipped onto its side, dragging the tanker trailer along the rail and ripping holes in the top of the tank in the process. Hot asphalt began leaking out after the trailer rolled and landed upside down in a ditch.
As Hunt approached the scene, his first thought was to check on the condition of the tanker driver. When bystanders saw him going closer, they urged him to step back, fearing an explosion, but Hunt saw the placards on the trailer and knew that an explosion was unlikely.
Hunt discovered the driver was pinned in the cab by the crushed roof. Although he could only see the man's left hand sticking out of the truck, Hunt suspected the man had numerous injuries. As he reached for the hand to obtain a pulse, the man immediately began pleading for help.
"I tried and tried, but I just couldn't get him out," said Hunt, recalling what happened that day. "I kept assuring him that help was coming. There were maybe 8,000 gallons of asphalt leaking – it was incredibly hot and all around us. I didn't know what else to do, so I grabbed a shovel from my truck and dug small trenches in the dirt to keep the asphalt from getting on him and burning him."
Hunt stayed with the man until emergency personnel arrived and took over. It would take them more than 2.5 hours to cut him free.
Hunt has been a driver for more than 40 years. When asked about his role in the incident, he said that in situations like these, he tries to stay calm.
"My company has taught us don't get excited – fall back on your training and do what needs to be done," he said.
For his good deed, TCA has presented Hunt with a certificate, patch, lapel pin, and truck decal. Crossett, Inc., also received a certificate acknowledging that one of its drivers is a Highway Angel.