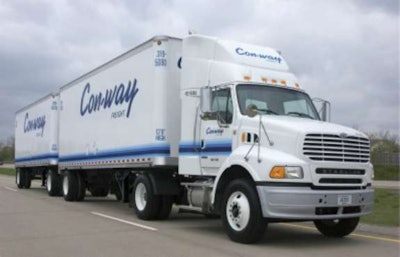 One of the largest trucking companies in North America today announced it is increasing what it pays drivers in its less-than-thruckload (LTL) operation.
Con-way Inc. (ranked fifth on Commercial Carrier Journal's Top 250 ranking) said its Con-way Freight drivers will receive pay rate increases. The company also is reducing the time it takes for drivers to reach the top of the pay scale.
The improvements, which take effect Jan. 4, 2015, also align driver pay rates to be competitive for each geographic market, according to the company. In its filing with the Securities and Exchange Commission, Con-way said the pay increases would amount to $60 million in 2015.
With the change, all drivers will reach the top of the pay scale three years from date of hire. On Jan. 4, all eligible drivers will be adjusted to the applicable new pay rate commensurate with their service time. the company said.
This pay increase follows a similar one last month for drivers in Con-way Truckload, which provides nationwide dry-van full-truckload services. It is the latest step in Con-way's efforts over several years to attract and retain drivers.
"Our LTL company, along with Con-way Truckload, is facing the most pronounced driver shortage we've ever seen," said Douglas W. Stotlar, president and CEO of parent company Con-way Inc.. "Con-way Freight provides premium service, and the skill and professionalism of our drivers enables us to keep the promises we make to our customers. This action benefits our people, our customers and our shareholders, and is supported by the improved profitability and efficiencies being delivered by Con-way Freight's 21,000 employees."
Greg Lehmkuhl, president of Con-way Freight, said these compensation changes an effort to create a more streamlined, market-competitive compensation program.
"We are committed to being the employer of choice for professional drivers. Our simplified pay structure enables us to more effectively align driver pay with the market-based cost of labor, and provides increased flexibility to react to market conditions over time so we can ensure our drivers' compensation remains competitive," said Lehmkuhl.
Con-way Inc. (NYSE:CNW) is a $5.5 billion freight transportation and logistics services company headquartered in Ann Arbor, Mich. It operates from more than 500 locations across North America and in 20 countries. The company has more than 16,000 drivers, 12,200 tractors and 34,000 trailers.