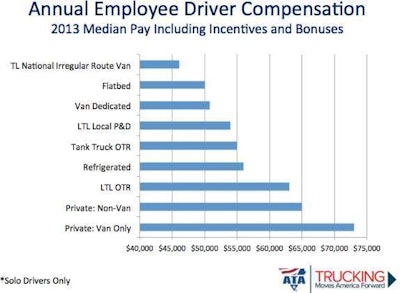 How does your fleet's pay stack up against others in your segment?
American Trucking Associations (ATA) will offer a benchmarking tool to let carriers knew exactly where they stand with the upcoming release of the 2014 Driver Compensation Study.
As previewed at the recent ATA MC&E, the study is a comprehensive evaluation of the way fleets pay their drivers, including details ranging from base packages to whether or not companies lump together vacation days and sick days as part their drivers' PTO.
Laurel Leitner, a research assistant in the ATA economics department, noted that she came to ATA earlier this year, and has a background that includes research related to executive compensation.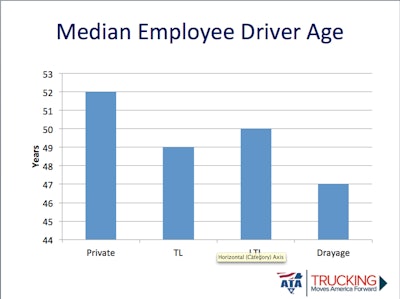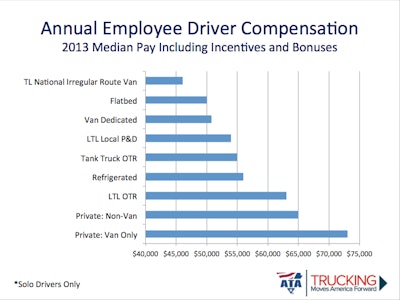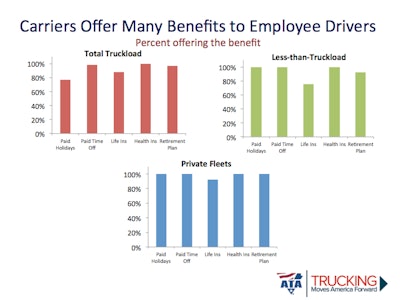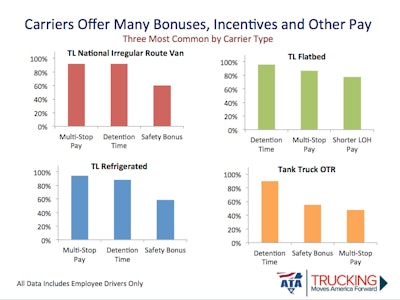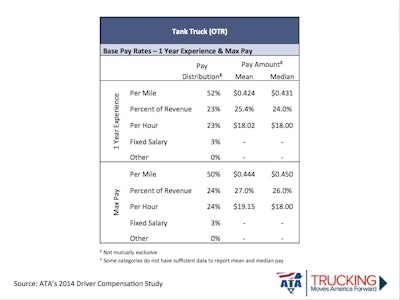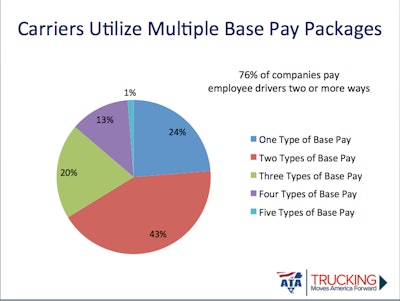 "I thought performance-based pay for executives was complicated, but I learned very quickly that driver pay was equally as complex," she said.
Because of the complexity and the level of detail sought in the study, the process was "time consuming and challenging," for participants.
Still, the survey covered 125 fleets and 135,000 drivers, a "great response," Leitner said.
They were grouped into four "buckets," and ATA developed a company, employee driver, and employee benefits profile. Base-pay, bonus and incentive data was split out further.
Private Fleets – van and non-van
TL – trailer type and non-drayage independent contractor
LTL – region, then OTR and local
Drayage – employee driver and independent contractor
The median age for the U.S. labor force is 42, Leitner pointed out, noting that an aging driver population is something the industry continues to struggle with.
As for base pay, "as you'd expect, there is quite a range," Leitner said: The 2013 median pay for national, irregular route van drivers was just over $46,000 compared to a private fleet van drivers at $73,000.
Somewhat surprising, however, the survey found that driver pay isn't just based on mileage, with 3 in 4 fleets paying drivers in multiple ways.
The study looks at that "diversity" in base pay and goes into further detail with base pay rates for inexperienced employee drivers and those with 3 years' experience, and discusses how many years on average it takes to reach max base pay.
ATA also investigates bonus pay incentives across the four segments and goes into great detail on benefit plans.
For example, she cited flatbed multi-stop pay:
87 percent of truckload carriers with flatbed employee drivers offered multi-stop pay.
Of those, 90 percent used a flat rate per stop, while the other 10 percent used a tiered system.
Median flat rate pay was $25/stop, while the tiered system pay was comparable.
ATA plans to make the full study available by the end of the month, Leitner said. Pricing information is available here.