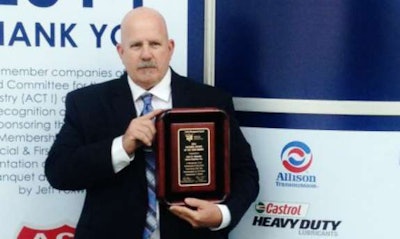 Davis Express driver Carl Schultz as was named the American Trucking Associations' (ATA) 2014 National Truck Driver of the Year. Schultz, a Florida-native and the Florida Trucking Association's 2013 Driver of the Year, has more than 42 years of career experience as a professional driver.
Schultz was recognized at the annual ATA Management Conference and Exhibition Oct. 4-7 in San Diego, Calif. He will also be recognized at the ATA's Safety Management Council's Safety and Human Resources Conference & Exhibition in Orlando, Fla., Oct. 28-30.
In addition to accumulating well over 4 million miles of safe driving, Schultz has been recognized many times during his lengthy career for his hard work and commitment to safety. He is also highly regarded by other drivers for his knowledge and success. Schultz and his wife, Heidi, live in Tampa with their youngest daughter.
"Being named the ATA National Truck Driver of the Year means that you are recognized by the people at the top of your industry for doing something exceptional," said Schultz. "I'm so thankful and honored that the ATA has regarded me to be someone worthy of this award. It's just amazing."
"Carl Schultz exemplifies everything Davis Express stands for and who we ask our drivers to be," said Kayla Thomas of Davis Express. "He consistently puts safety first and is always focused on teamwork, customer service and helping other drivers be safe and successful in their careers. Davis Express is proud to have a nationally-recognized driver as part of our family."
Drivers in the competition are nominated by ATA-affiliated state trucking associations. Nominees must be employed as a professional truck driver at the time of the nomination and be named the official "State Truck Drivers of the Year." The ATA considered each nominee's driving record, training, awards and driving championships history, among other nomination-worthy actions, before determining the winner.