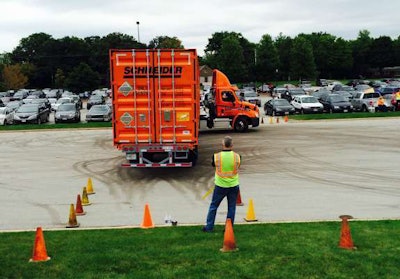 Doug Dent of French Camp, Calif. Just won a rodeo, but he's no cowboy.
Dent is a driver for Schneider and won the company's fifth annual Safety Rodeo held at the firm's headquarters in Green Bay, Wisc.
Each year, Schneider encourages all drivers in its Intermodal division to participate in a driving skills competition by attempting courses set up at 12 of its major hubs across North America. The three-maneuver course takes about 15 minutes to complete and tests a driver's abilities in blind-side backing and tricky parking situations.
The winner of each regional rodeo advances to the national championship held every August. In addition to the 12 regional competitors, the prior year's winner is invited to defend his or her title. This year Matt McMillan of Worcester, Mass. (who won both the 2012 and 2013 rodeos) was unseated by first-time competitor Dent.
"I'm stoked – it's a huge adrenaline rush," Dent said after he was announced the winner. "The whole time I was nervous as could be. It was very tough."
McMillan, who has been with Schneider for eight years, was gracious in defeat.
"It was good, fun competition and very safety oriented. They always do a good job setting this up," he said. "I was hoping for a three-peat, but if you're here, you're pretty good."
The challenge was only part of the two-day trip to Green Bay for the national championship competitors. Drivers and a guest were treated to dinner shortly after arrival, a welcome reception with Schneider leaders, a tour of Schneider's Corporate Business Center and tickets to a luxury box suite at a Green Bay Packers football game.
The top three finishers (Dent, McMillan and Luther Williams of Houston) received reward points to use in Schneider's incentive-based Pacesetter system in which drivers redeem points for valuable items and merchandise. As the overall winner, Dent was also awarded a trophy and will return to the national rodeo next year as the defending champion.
Other regional winners and national competitors include Richard Bailey (Worcester, Mass.), Joseph Bardon (Marion, Ohio), David Bramlette II (San Bernardino, Calif.), Cory Gartrell (Syracuse, N.Y.), Ray Guzman (Los Angeles), Cliff McKellar (Fairburn, Ga.), James Owen (Seattle), Joseph Sterling (Chicago) and Michael Waugh (Kansas City, Mo.).
"Though we truly have the best of the best driving for Schneider, we look for every opportunity to reinforce our core value of safety first and always," noted Don Osterberg, senior vice president of safety and security at Schneider. "When the drivers participate in the regional rodeos, it gives them the chance to practice some difficult moves, and it gives our trainers a chance to help them sharpen their skills so that everyone is even safer when they're out on the road. For those who reach the championships, the fun experience they have in Green Bay is a wonderful way we recognize and reward them for the outstanding work they're doing."