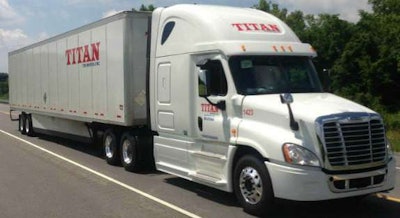 A Shelbyville, Tenn.-based trucking company, announced a double-digit pay increase for professional drivers recently.
Titan Transfer (221st on Commercial Carrier Journal's Top 250 list) a truckload carrier, said it increased pay by 13 percent for drivers in most of its markets. The company said it is the largest pay raise in its history. It also said it was increasing starting pay for new drivers.
In addition, Titan offers a weekly bonus with which drivers can earn an additional 9.5 percent-11.7 percent increase each week based on the weekly mileage.
"We believe these changes will allow us as a company to attract and retain quality drivers to service and respond to our customers' needs," company President Phillip Edwards said. "We are excited about Titan's future and will continue to put our profits back into our employees pockets."
Founded in December of 2000, Titan Transfer provides over-the-road truckload services throughout the United States and Canada. Titan has locations in Tennessee, Mississippi, Alabama, Florida, Maryland, Indiana and Ohio.
The company has some 458 drivers, 478 tractors and 1,350 trailers.