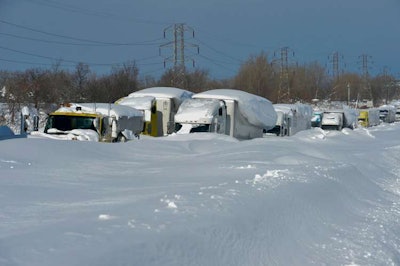 UPDATE: Nearly 100 trucks remain stranded in the deep snow that has immobilized a large portion of western New York.
But, state officials say every driver in the 98 trucks has been checked on and efforts continue to free them from the more than 5 feet of snow that fell.
The New York State Thruway (I-90) is still closed in both directions from Exit 46 (Rochester, I-390) and Exit 61 (Ripley). Southbound lanes of the Niagara Thruway (I-190) are closed between Exit 16 (Youngmann Memorial Highway, I-290) and Exit 1 (south Ogden Street).
In addition, there are travel bans in effect in Lancaster, West Seneca, South Buffalo, Cheektowaga and Hamburg, with driving for any reason prohibited. Travel advisories, which restrict drivers from any unnecessary trips, are ongoing in all of Erie and Genesee Counties.
To make matters worse, the National Weather service is calling for another 24 inches of snow in the next two days. The final snowfall amount could top 100 inches.
So far, 10 deaths have been attributed to the storm that blanked a large area south of Buffalo.
New York State Gov. Andrew Cuomo yesterday went truck to truck to chat with drivers stranded by the storm.
The New York State National Guard has been sent to the area and the state of Connecticut has dispatched plows and other snow removal equipment to help with the cleanup. In addition to New York State's snow removal equipment, numerous private contractors have been hired to help with the task.
This storm is proving to be a test for this part of the country that annually competes for the Golden Snowball Award. A true measure of just how serious this storm is: the Buffalo Bills' game against the New York Jets scheduled for Sunday has been postponed and most likely will be moved to a location with less snow.
Keep track of Thruway conditions here.