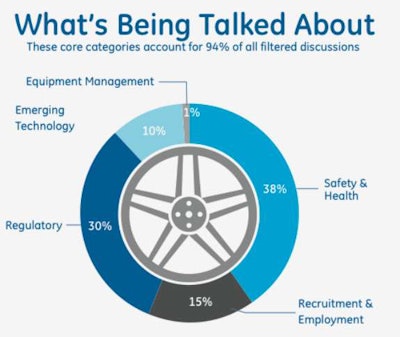 Every day, 4.75 billion pieces of copy get posted to Facebook.
On Twitter, there are 500 million Tweets per day.
Now, a yearlong study shows drivers, fleets and others in the trucking industry are among those actively posting to those and other social media sites.
The survey was conducted by TrueVoice for GE Capital, Transportation Finance, and searched of 250 million online outlets to find the most common discussion topics.
Online conversations start with news and spike when government agencies and industry associations make announcements. The news is passed along through blogs and becomes personal in Facebook and in forums.
"That's where discussions of family, diet, exercise and health concerns showed up," said Dan Clark, president of GE Capital, Transportation Finance.
The volume of industry-specific conversations happening in social media was surprising, he said.
"But on the other hand, we know that drivers want to keep in touch with their families when they're on the road and social media is a convenient way to do that," said Clark.
More than 80 percent of online activity was dominated by three topics:
safety and health
recruitment and employment
regulatory issues.
The discussions tend to be interrelated, touching on several issues simultaneously. Online conversations involving technology and equipment management made up about 11 percent.
A lot of the activity in the equipment category was related to fleet ownership. Most of the online activity took place in forums, indicating that fleet company leaders were looking to interact with their peers.
Online activity in the trucking industry peaked in the summer months of 2014. Fall is usually the height of activity, but this year more than 105,000 discussions on the above topics happened between May and September.
The study revealed higher-than-normal level of news activity from the high-profile accident on June 7 involving celebrity Tracy Morgan.
This is the second year GE Capital, Transportation Finance has conduct a study of social media usage in the trucking industry.
"We launched this project in 2013 for two reasons," Clark said. "We wanted to understand the challenges and issues that are most important to the industry and to do it in an objective way. And we wanted to see where our customers and prospects were spending time and having conversations online."
The study shows a trucking audience that is receptive to valuable information, which he noted is why GE Capital, Transportation Finance, has invested in a trucking-focused web site and Twitter handles: @GETruckFinance to tweet about important industry issues and @GELendLease to tweet about issues important to mid-market companies overall, including those in trucking.
Click here to see an infographic of the study's key findings.