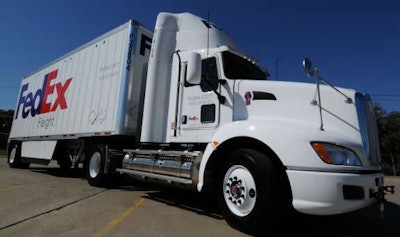 The latest skirmish in the battle to organize FedEx Freight went to the Teamsters this week with a victory in Charlotte, N.C., though the union cancelled elections in two other locations.
At the Charlotte terminal, a group of 222 drivers voted Wednesday to join Teamsters Local 71. It was the union's third positive result in three weeks.
"Like the drivers in Philadelphia and in South Brunswick, N.J., who voted to join the Teamsters, the workers in Charlotte want to be treated fairly and they want to have consistent, fair work rules," said Steve Bess, president of Local 71.
The Teamsters statement did not include a vote total, but a forum post on TeamstersOnline.com put the tally at 110-97.
In its turn to use the news release template that follows a defeat, the company stated that "it remains business as usual at FedEx Freight and our nationwide network won't miss a beat."
FedEx says the company is again considering an appeal of the vote.
FedEx also reported, however, that union votes set for South Newark, N.J. and Richmond, Va. this week had been cancelled.
"These withdrawals are a clear indication that the union lacks support among FedEx Freight team members," FedEx said. "The union generally withdraws from an election when it believes it is going to lose. FedEx Freight remains committed to its team members and to delivering industry leading service offerings to our customers."
Indeed, the union failed to win a vote last week at another Newark facility.
Other campaigns at FedEx Freight and at Con-way Freight are under way around the country.