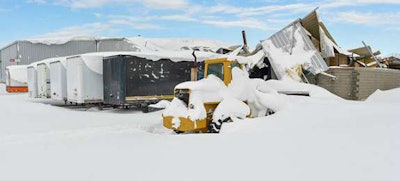 Trucking life remains far from normal in western New York as the region near Buffalo continues to dig out of a massive snow storm that dumped between 5 and 7 feet of snow during much of this week.
As of this morning (Friday, Nov. 21):
* The New York State Thruway remains closed in both directions from Exit 46 at Rochester and Exit 61 at Ripley. Travel bans remain in effect for most of the region.
* Food and gasoline shortages are becoming more common as trucks cannot make deliveries to stores and gas stations.
* Some 98 trucks remain stranded on the Thruway.
* The Associated Press is reporting that more than 250 truckers remain idled at truck stops near the Thruway and 45 more are waiting to get back on the road at Thruway rest stops.
* Snow has tapered off, but the region now faces the prospect of flash flooding late this weekend and early next week when the massive amount of snow begins to melt.
* The death toll from the storm has reached 12.
* More than 30 roofs have collapsed at homes, businesses and farms.