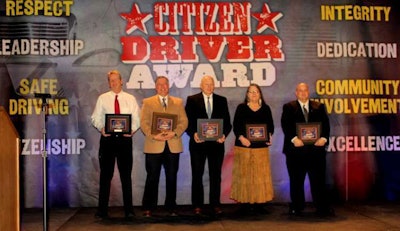 Five veteran truck drivers today (March 27) were honored by TA Petro Stopping Centers not just for their exemplary driving careers, but also for their work in the communities in which they live and the trucking industry in general.
Receiving the company's second annual Citizen Driver Awards at the Mid-America Trucking Show at the Kentucky Expo Center in Louisville were:
Richard Ash, an owner/operator from Lakewood, Colo.
Gary Buchs, an owner/operator for Landstar from Colfax, Ill.
Robert Fernald, from Westbrook, Me., who drives for Walmart Transportation
Sandy Long from Marceline, Mo. who drives for Weston Transport
Michael Sheeds, from Bandera, Tx., who drives for Werner
Each will have a TA Petro stop named in their honor.
The five honorees were chosen from 19 finalists. A total of 72 drivers from 25 states in the U.S. and Canada were nominated for the awards.
Tom O'Brien, president and CEO of TA Petro, said the goal of the recognition program was to not just shine a light on the good works of drivers, but to also share those accomplishments with the greater public.
"We have seen so many examples of drivers who do it right," said O'Brien during a luncheon program attended by about 200 people. "We honor the best of the best, and put the spotlight on individuals who do so much."
The program concluded with a performance by singer/songwriter Lindsey Lawler of "I Drive," the song commissioned by TA Petro in honor of the Citizen Driver Award winner.