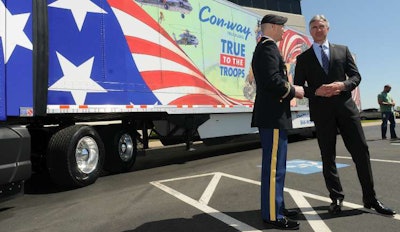 Con-way Truckload, a full truckload carrier and subsidiary of Con-way Inc. today (May 1) launched a new military appreciation campaign called True to the Troops with a ceremony held at the company's headquarters in Joplin, Mo. that included the unveiling of two of the company's tractor-trailers wrapped with images honoring and recognizing the military.
Two Con-way Truckload drivers — Tomy Fox and Darrell Bogan, each a military veteran — were selected to drive the two new True to the Troops tractor-trailers throughout the U.S. during May, Military Appreciation Month.
This morning's ceremony included a presentation of colors led by the Joplin ROTC color guard, remarks by featured speakers Joe Dagnese, president of Con-way Truckload, Joplin Mayor Michael Seibert, who proclaimed May 1"Con-way Truckload True to the Troops Day," Lieutenant Colonel Dean R. Somers, and Joshua Landers, military advocate at Con-way Truckload.
"The values learned in service to our country align with the shared values we hold as an enterprise — safety, integrity, commitment, excellence — and complement our company's purpose of strengthening communities and enriching lives by delivering the things that matter," said Dagnese. "We recognize the value veterans bring to our team. We know they will be a positive addition to our culture. And, today we reaffirm our commitment to be True to the Troops."
The company has a number of hiring initiatives to assist veterans, including:
Priority hiring status to qualified soldiers participating in the Partnership for Youth Success (PaYS) program.
Participation in the U.S. Department of Labor National Apprenticeship Program, which permits eligible veterans and active members of the Guard and Reserve to receive paid on-the-job training using GI Bill benefits.

Relationships with the Transition Assistance Program (TAP) and One-Stop Career Centers throughout the country, to help recently separated military personnel find the right job, program or opportunity to start or continue their training.

Con-way Truckload's Driver Certification program, where drivers with recent military driving experience and a CDL will have the opportunity to quickly transition to the experienced driver pay scale.
Offering paid tuition and tuition reimbursement to those veterans looking to start a career in truck driving.