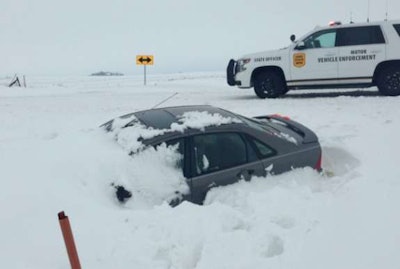 Truckers started pulling into the Love's Travel Stop on I-80 at Exit 179 in North Platte, Nebraska about 6 p.m. Monday (Feb. 1), and now they're sitting and waiting for the interstate to reopen.
Jeremy Thiry is the manager of the Love's and said the lot, which can hold 90 trucks, filled up quickly. He said snow started falling heavily at about 6 this morning, and has since tapered off. At about 6 p.m. Tuesday, Thiry said the problem now is the blowing snow.
Nebraska DOT closed parts of I-80 earlier Tuesday, and there is no word as to when they might reopen.
Thiry said the truckers are just waiting in their trucks, coming inside and leaving again.
Coverage of the storm from KDLT TV in Sioux Falls, South Dakota.
[gthr][/gthr]
Here is the latest from the Minnesota State Patrol:
Interstate 90 and state highways south of Highway 14 will close in 10 southern Minnesota counties starting at 2 p.m. due to whiteout conditions. No travel is advised these areas as well:
• Blue Earth
• Brown (southern portion)
• Cottonwood
• Faribault
• Jackson
• Martin
• Nobles
• Rock
• Watonwan
• Waseca
Motorists can be fined up to $1,000 and/or sentenced to 90 days in jail for traveling on closed roads. If travelers need to be rescued from a closed road, other expenses and penalties will apply. For updated information on road conditions, visit www.511mn.org or call 511.
[gthr][/gthr]
Winter Storm Kayla is hammering the Midwest and Central Plains, dumping as much as 41 inches of snow and closing interstates and other highways in Nebraska, Colorado, Kansas, South Dakota and Iowa.
At the same time, severe thunderstorms and possible tornadoes are forecast in the southeast and heavy rains along the East Coast.
According to the Weather Channel, about 100 miles of Interstate 80 in Nebraska were closed, and there were sections of I-70 closed in Colorado and Kansas.
@BarOleTrucking reports that part of I-90 in southern Minnesota is now closed.
Kayla is packing high winds as it moves to the northeast and into the Great Lakes and Canada.
Check Back For More Details
Colorado DOT's Trucker Information Page
Nebraska DOT's page for highway closings
Iowa DOT's information for truckers