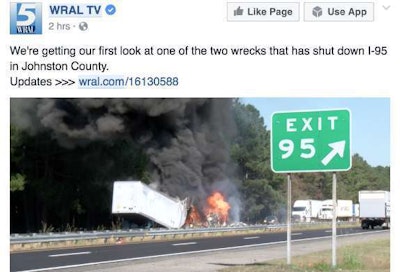 Shortly after reopening following flooding caused by Hurricane Matthew, part of I-95 in North Carolina was closed Wednesday, Oct. 19 by three separate mishaps, all involving trucks.
WRAL in Raleigh reports that an RV rear-ended a tractor-trailer at about 1:45 p.m. near mile marker 95 and a fire broke out. The blaze closed down traffic, and prompted an evacuation of the surrounding area, including nearby Johnston Community College.
There were also reports of two other crashes, one at mile marker 90 and one at mile marker 88.
Earlier Wednesday afternoon on I-95 near the U.S. Highway 301 a tractor-trailer reportedly ran off the right shoulder and into the woods.
A third crash on I-95 at mile marker 88 involved five vehicles. Authorities told WRAL an RV was stopped due to another crash when it was struck a tractor-trailer. Two people in the RV were killed, according to the TV station.