One mammoth trucking company just cut a major deal with another.
XPO Logistics, Inc. Thursday, Oct. 27, announced it sold its truckload business to the Canada's TransForce Inc. for about $558 million in cash.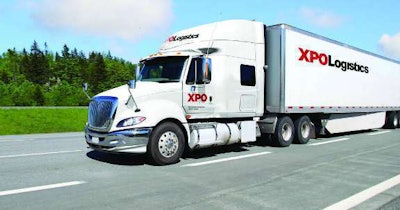 XPO said it will use the proceeds from the transaction to pay down its $5.1 billion in debt.
The divested truckload operation, which was part of the October 2015 acquisition of Con-way Inc., includes some 3,000 tractors, 7,500 trailers and 29 locations. XPO said it will continue to offer full truckload services to customers in the North America.
"TransForce is getting the 19th largest asset-based truckload carrier in the U.S., a highly experienced workforce, and a presence in the cross-border Mexico freight corridor,"said Bradley Jacobs, chairman and chief executive officer of XPO Logistics. "We divested these assets to concentrate on growing our value to customers in the areas where we're leaders in the industry: contract logistics, truck brokerage, less-than-truckload, last mile, intermodal, drayage, expedite and managed transportation.
"This transaction strengthens our balance sheet and improves our long-term growth profile. In addition to deleveraging, the sale reduces our annual capex requirements, increases our return on capital, and lessens the cyclicality of our operations."
XPO Logistics, Inc., which is based in Greenwich, Connecticut, has over 85,000 employees in 1,425 locations and has more than 50,000 customers. manage their goods more efficiently throughout their supply chains.