Atlanta has the dubious distinction of having two locations on the latest list of the most congested highway bottlenecks for trucks in America.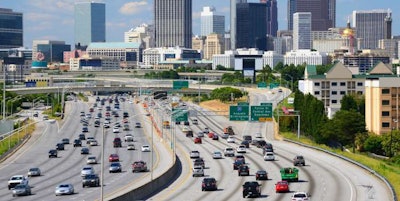 The city's "Spaghetti Junction," the intersection of Interstates 285 and 85 North, tops the American Transportation Research Institute's list of bottlenecks released today, Jan. 25. I-75 at I-285 North in Atlanta was ninth on the list of 100 locations across the country.
The complete top 10 includes:
1. I-285 and I-85 North in Atlanta
2. I-95 at State Route 4 in Fort Lee, New Jersey
3. I-290 at I-90/94 in Chicago
4. I-65 at I-64/71 in Louisville, Kentucky
5. I-71 at I-75 in Cincinnati
6. SR 60 at SR 57 in Los Angeles
7. SR 18 at SR 167 in Auburn, Washington
8. I-45 at US 59 in Houston
9. I-75 at I-285 North in Atlanta
10. I-5 at I-90 in Seattle
According to ATRI, the 2017 Top Truck Bottleneck List assesses the level of truck-oriented congestion at 250 locations on highways in the U.S. The analysis is based on GPS data from 600,000+ heavy duty trucks and data from trucking operations to produce a ranking for each location.
"With President Trump expected to press for significant long-term infrastructure spending, this ATRI analysis should be a key guide for deciding what projects are worthy of funding," said American Trucking Associations President Chris Spear. "Ensuring the safe and efficient movement of goods should be a national priority and this report draws attention to the places where our highway network needs improvement in order to meet that goal.
See details of all 100 top congested locations.
Use the comments section below