A leading trucking industry organization has weighed in with Congress objecting to efforts to approve the use of twin 33-foot-long trailers.
In a letter sent Thursday, Feb. 2 to four ranking members of the Committee on Transportation and Infrastructure and the Subcommittee on Highways and Transit the Truckload Carriers Association said allowing twin 33s:
will make existing truck trailers obsolete and force companies to make investments in new trailers
would benefit LTL companies and put truckload carriers at a competitive disadvantage
could increase the possibility of driver injury
The letter signed by TCA President John Lyboldt acknowledged that the industry is divided on this issue, and elaborated on why:
"Our industry recognizes the benefits that would be bestowed upon our less-than-truckload associates by adding additional cubic feet of freight space and how those benefits add to their productivity; however, the truckload industry would yield little, if any, advantage of the added cubic space that twin 33-foot trailers would generate. … mandating twin 33-foot trailers almost exclusively benefits LTL freight …"
"As an industry that continually searches far and wide for qualified drivers to operate our vehicles, the driver ramifications of operating fleets consisting of 33-foot trailers would be severe. The truckload industry and its long haul operations are logistically assembled for longer trailer configurations rather than articulating smaller trailers bound by dollies. The majority of loading docks are designed to accommodate trailers that reverse into these docks. The twin 33-foot trailer configuration has proven problematic to back up and would need to be separated prior to backing, an arduous task for drivers in our long haul world. The potential for driver injury when separating trailers and their 3,000-lb. converter gear is high and would jeopardize any improvements to the health and well-being of drivers that our industry strives to make."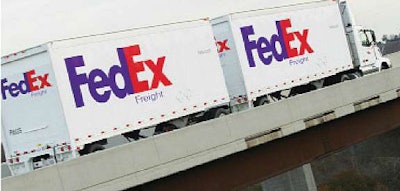 The TCA's letter was sent to:
Rep. Bill Shuster, (R-Pennsylvania 9th District) Chair, Committee on Transportation and Infrastructure
Rep. Peter DeFazio (D-Oregon 4th District) Ranking Member, Committee on Transportation and Infrastructure
Rep. Sam Graves, (R-Missouri 6th District) Chair, Subcommittee on Highways and Transit
Rep. Eleanor Holmes Norton (D-Washington, D.C.) Ranking Member, Subcommittee on Highways and Transit
On Wednesday, Feb. 1, FedEX founder Chairman and CEO Fred Smith testified before the House Committee on Transportation and Infrastructure about several issues, including the need for twin 33-foot-long trailers.
Smith told the committee, "It is time to make adjustments to trailer standards for light freight and ground package shipments." He said twin 33s will improve highway safety and lower emissions simply by reducing the number of trips needed to move the same amount of freight.