A small Alabama company has been told to cease operations by the Federal Motor Carrier Safety Administration following an accident in March in which two people were killed.
The FMCSA ordered Jeffery Finklea, doing business as J & L Trucking and based inBeatrice, Alabama, to immediately cease all interstate and intrastate operations. An investigation found the two-truck company to pose an imminent hazard to public safety. It was served the federal order Monday, April 24.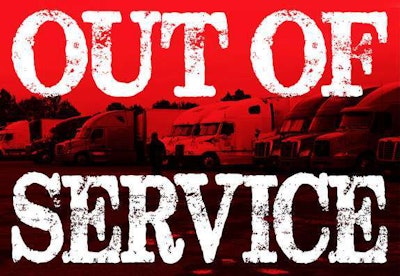 On March 28, a truck operated by J & L Trucking crossed the centerline on Alabama's State Highway 13 in Fayette County, colliding head-on with a passenger vehicle and fatally injuring both of its occupants.
According to the FMCSA, the J & L Trucking driver admitted to Alabama Department of Public Safety officers that he had fallen asleep while driving. Police found the driver did not have his records-of-duty-status for the preceding seven days and had no valid medical certificate, both required by federal regulations. Investigators also found multiple violations on the J & L Trucking vehicle, including unsafe, worn tires, and oil and grease leaks.
A post-crash investigation conducted by FMCSA safety investigators further found the company to be in violation of multiple federal safety statutes and regulations, including:
Failing to ensure that its vehicles were regularly inspected, maintained, repaired and met minimum safety standards. During FMCSA's investigation, J & L Trucking officials could not produce any maintenance files or records, including copies of roadside inspections or vehicle repair receipts showing that vehicle out-of-service defects had been repaired. The company owner claimed he conducted periodic inspections and serviced the brakes of the vehicles, although he was not qualified to perform those functions. In the past 24 months, J & L Trucking vehicles were subjected to 12 unannounced roadside safety inspections; on nine occasions, the truck was ordered out-of-service for serious safety violations ranging from inoperative required lights, unsafe, worn tires, oil and grease leaks, damaged or discolored windshield, to missing or defective brake warning components.
Failing to properly monitor its drivers to ensure compliance with maximum hours-of-service requirements prohibiting fatigued operation of commercial motor vehicles. During FMCSA's investigation, J & L Trucking officials could not produce any records-of-duty-status for two of its three drivers. One driver admitted he was unfamiliar with filling out a driver's log book, and had never done so. Another driver said he insisted on turning in his records-of-duty-status, but J & L Trucking officials failed to review them for compliance with federal safety regulations.
Failing to comply with any driver qualification requirements, including ensuring that its drivers were properly licensed and physically qualified to operate a commercial motor vehicle. During FMCSA's investigation, J & L Trucking officials could not produce any driver qualification file with the requisite employment application, medical certificate, driver road test certificate, state motor vehicle record, prior employer inquiry or record of violations. The one employment application the company's officials did provide was found to be fraudulent.
In a statement issued Thursday, April 27, the FMCSA said its investigation found that J & L Trucking's inadequate vehicle maintenance program, its failure to ensure its drivers were qualified and its failure to monitor its drivers for compliance with federal safety regulations "… substantially increases the likelihood of serious injury or death for its drivers and the motoring public if the operations of J & L Trucking are not discontinued immediately."