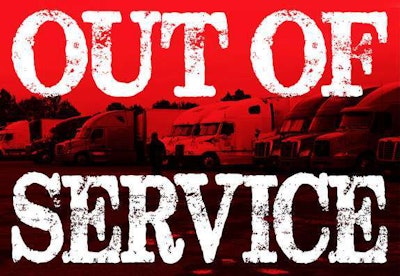 A Kentucky truck driver who last month led police on a two-county chase during which his truck struck several passenger vehicles and a tractor-trailer before crashing has been placed out of service by federal authorities.
The U.S. Department of Transportation's Federal Motor Carrier Safety Administration Friday, April 7, announced it has declared Kentucky-licensed truck driver Dalton McCoy Lampley to be an imminent hazard to public safety and has ordered him not to operate any commercial motor vehicle in interstate commerce. Lampley was served the federal order on March 31.
The FMCSA explains:
On March 17, Lampley was operating a large commercial truck along Interstate 24 in McCracken County, Kentucky, when he crossed the median and began driving eastward in the westbound lanes striking two cars and causing multiple collisions.
With police vehicles in pursuit, Lampley continued driving into Marshall County. Leaving the interstate, Lampley headed erratically into Calvert City, Kentucky, where spiked stop strips were placed in the roadway by a police officer. Lampley changed lanes and drove his truck directly at the police officer who escaped injury.
Later, near the intersection of Kentucky Highways 1523 and 62, Lampley's truck finally became disabled and he was arrested and charged with reckless driving, assault, criminal mischief and resisting arrest.
Following his arrest, Lampley told police officers he had used a Schedule II controlled substance earlier that day as well as for the past several days. Use of a Schedule II controlled substance is prohibited by federal safety regulations.
According to a report at the time of the chase in the Western Kentucky Star, "Lampley was taken to Marshall County Hospital for treatment of minor injuries, and then taken to Marshall County Jail. He is charged with first degree fleeing or evading police, first degree wanton endangerment of an officer, DUI, possession of a controlled substance (methamphetamine), possession of drug paraphernalia and resisting arrest. Paducah Police say they anticipate charging Lampley with multiple counts of first-degree assault."
A statement from the FMCSA said Lampley's continued operation of a commercial motor vehicle in interstate commerce " … substantially increases the likelihood of serious injury or death to you and the motoring public if not discontinued immediately."
Failure to comply with the provisions of a federal imminent hazard out-of-service order may result in action by the U.S. Attorney's Office for equitable relief and punitive damages. Civil penalties of up to $1,782 may be assessed for each violation of operating a commercial motor vehicle in violation of the order. Knowing and/or willful violation of the order may also result in criminal penalties.
Lampley also may be subject to a civil penalty enforcement proceeding brought by FMCSA for his violation of the agency's safety regulations.