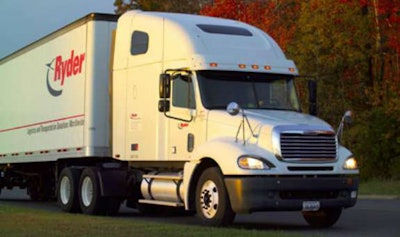 Three veteran drivers with a combined 103 years experience and 6.5 million safe miles have been honored as drivers of the year by Ryder System, Inc.
Recognized with 44th Annual Driver of the Year Awards were Junior Belt, Willie Anderson and Gilbert Gutierrez.
Junior Belt is the Driver of the Year for Ryder Supply Chain Solutions. Belt drives for the Toyota account in London, Kentucky. He has driven over 2 million miles without a preventable collision during his almost 28 years with Ryder and a total of 3.1 million miles over the course of his 32-year driving career. In August 2015, he became a certified driver trainer, and has helped shape the program. Belt also gives back to his community by volunteering at his church, serving as a deacon, and helping those in need.
Willie Anderson is the Driver of the Year for Ryder Dedicated Transportation Solutions. Anderson provides land material transportation support to Shell Exploration & Production Company offshore operations in the U.S. Gulf of Mexico. He has worked for Ryder for 20 years, and has driven over 2.8 million miles during his 34-year driving career. Anderson is a certified driver trainer, a driver ambassador who assists in driver recruiting, and a Veteran Buddy, helping recently discharged military personnel hired by Ryder to transition into their new civilian roles. In addition to working for Ryder as a driver, Anderson has also worked for the company as a fuel island attendant, tire manager, and customer service coordinator. He is involved in community programs that help homeless people. He also volunteers at his local church, where he serves as a deacon. Anderson is a U.S. military veteran, who served in Operation Desert Storm/Shield and aided in the aftermath of Hurricane Andrew in New Orleans.
Gilbert "Gil" Gutierrez is the Driver of the Year for Ryder Fleet Management Solutions. Gutierrez drives for Ryder customer Spicers Paper in Santa Fe Springs, California. He has been employed by Spicers Paper for more than 37 years and has driven over a half million collision-free miles. Gutierrez also gives back to his community by donating food to the needy, participating in Toys for Tots runs, and donating toys to military families.
The Driver of the Year Award, one of Ryder's longest running recognition programs, honors drivers who have demonstrated exemplary safety performances, customer service, and citizenship throughout their careers. Honorees are selected through a review process by a committee that includes Ryder customers, executives, safety experts, and professional drivers. Recipients are inducted into the Ryder "Driver Hall of Fame" and presented with a cash prize and a specially designed ring and watch.
"Ryder is extremely proud to be affiliated with such dedicated, trustworthy professional drivers like Junior, Willie, and Gil, who are the best of the best in the industry and who epitomize what it means to go above and beyond," said Robert Sanchez, Ryder Chairman and Chief Executive Officer.