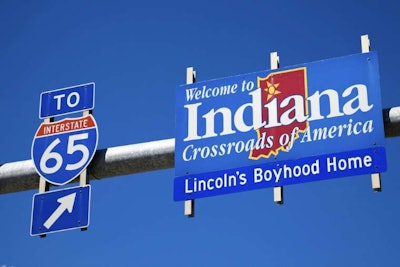 The Indiana Motor Truck Association is fighting hunger by organizing drivers with unsellable food goods to reroute that freight to local food banks via the new Indy Food Drop program.
According to the Indy Food Drop site, one in six Hoosiers face food insecurity. By creating a system for drivers with less than perfect food to offload that freight, the association and its partners are trying to address that problem.
Barbara Hunt, vice president for the IMTA, said the Indy Food Drop partnership stemmed from the association's long relationship with the Midwest Food Bank in Indianapolis.
"They reached out to use because they also have a good relationship with a lot of the other food banks in the Indianapolis area," Hunt said. "Their hope is to build this partnership and really expand it out across the state and then state lines and really help everyone understand how we can all work together. The ultimate goal is to feed hungry people, feed people that need it."
Drivers or trucking industry partners who want to contribute to the program can go online to the Indy Food Drop site. The site has a list of drop off locations and their contact information. They will offer help unloading, give the driver a receipt for the donation, and offer swift in-and-out access.
"It's really a win-win for everyone. The goal is to feed hungry people but the by-product of it is a driver can get the freight offloaded that's been rejected and keep moving," Hunt said.