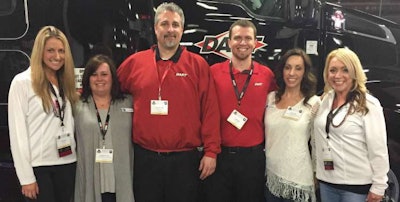 Dart Transit Company partnered with the St. Christopher Trucker Development and Relief Fund at the Mid-America Trucking Show in Louisville, in March to raise $4,400 for the charity.
Dart had a "Cash Catch" booth at the show where participants could try to catch $1,000 cash in 60 seconds as the money blew around them in a booth. Once their round was over, the leftover cash was donated to St. Christopher Fund.
Shannon Currier, director of philanthropy and development at the St. Christopher Fund, said she looks forward to partnering with Dart more in the future.
"The Dart team is so much fun to work with and the cash grab was such a creative idea to engage drivers and show your commitment to making them successful," Currier said. "Dart is driver focused just like the St. Christopher Trucker Relief Fund, so this relationship makes perfect sense. We are excited about our partnership and look forward to working together to support drivers."