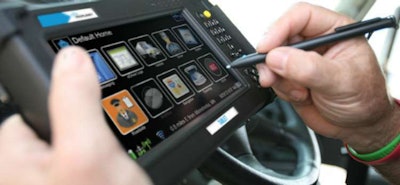 The U.S. Supreme Court today said it will not hear a lawsuit challenging the federal government's rule mandating the use of electronic logging devices on most trucks, leaving in place the Dec. 18 deadline for their installation.
The suit was brought by the Owner-Operator Independent Drivers Association and two owner/operators, Richard Pingel and Mark Elrod. They claimed the mandate violated drivers' Constitutional protections against warrantless searches and seizures and that the rule did not meet Congressional stipulations set for an ELD mandate.
The justices conferred on OOIDA's appeal Thursday, June 8. Its decision issued today effectively ends OOIDA's court challenge.
Overdrive News Editor James Jaillet writes:
In its appeal to the Supreme Court, OOIDA and the trucker plaintiffs argued the mandate has implications even outside of trucking, as it pertains to "millions of ordinary citizens going about their normal work days under constant, electronic surveillance without warrants," said OOIDA Executive Vice President Todd Spencer last month.
OOIDA brought the lawsuit in March 2016 against the DOT the Federal Motor Carrier Safety Administration. A three judge panel of the 7th Circuit Court of Appeals heard the case last September, and ruled against the OOIDA. The OOIDA asked for a rehearing by all of the court's 13 judges, and that appeal was denied.
In April, OOIDA asked the Supreme Court to take up the case,and that request was denied today.