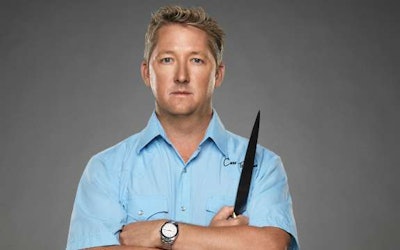 One the country's leading celebrity chefs is now cooking for the nation's largest truck stop chain.
Pilot Flying J announced Texas chef and restaurant owner Tim Love will create new signature food items that will be available at all Pilot Flying J locations across the nation. Chef Love will also develop dishes specifically for Pilot Flying J's Southwest locations, focusing on the flavors and specialties that represent the region's fare.
"I am thrilled to be partnering with Pilot Flying J," said Love. "They truly want to provide a better food experience for their guests. Our mission will be to create nutritious options that are easy to carry and easy to eat – that criteria tends to be top of mind for most travelers, but hard to come by on the road."
Chef Love's restaurants include Lonesome Dove Western Bistro in Austin, Fort Worth and Knoxville, Queenie's Steakhouse, Woodshed Smokehouse, Love Shack, and the White Elephant Saloon. He has competed on "Top Chef Masters," and Food Network's "Iron Chef America."
"Offering our guests a variety of fresh, quality food options is a top priority for us at Pilot Flying J," said Whitney Haslam Johnson, chief experience officer for Pilot Flying J. "We hope to not only meet guests' expectations, but exceed them, and partnering with Tim Love will absolutely help us achieve that, providing a great experience for our guests."
Chef Love's career began in a kitchen in Knoxville – where Pilot Flying J is headquartered – while he was a student at the University of Tennessee.
Love will be working closely with Shannon Johnson, vice president of food innovation at Pilot Flying J, to continue to develop the PJ Fresh Marketplace brand to give consumers more choices in food and beverage offerings.
"I've always been a big fan of the brand, especially their Knoxville roots, and have been visiting locations regularly over the years while traveling," said chef Love. "I thought there might be an opportunity to see what we could do in this type of setting, as it's very different from the dining experiences I usually oversee and operate. There is certainly a need to challenge the status quo for those on-the-go and provide wholesome options."
Pilot Flying J's combined network of more than 750 retail locations across North America serves more than 1.3 million customers daily, according to the company.