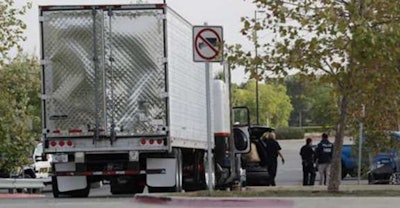 Human trafficking and smuggling rile San Antonio — and beyond https://t.co/EhimttAVS2 pic.twitter.com/nT3rk5YePS

— CNN (@CNN) July 24, 2017
UPDATE: A tractor-trailer driver today was charged with one count of transporting illegal aliens, after 10 aliens died when they were smuggled in his truck on Sunday.
The charge was announced by U.S. Attorney Richard L. Durbin Jr., Western District of Texas, and U. S. Immigration and Customs Enforcement's (ICE) Homeland Security Investigations (HSI) Special Agent in Charge Shane Folden.
A federal complaint filed today, July 24, alleges James Matthew Bradley Jr., 60, unlawfully transported aliens in violation of law resulting in the death of 10 of the aliens transported. The tenth alien, an adult male, died overnight at a hospital. Upon conviction, the offense is punishable by life imprisonment or death, a $250,000 fine, and three years of supervised release.
According to a statement issued by ICE, Bradley said he was transporting the trailer from Schaller, Iowa, to Brownsville, Texas. He denied knowing there were people in the trailer, and discovered them only when he exited the vehicle to relieve himself. He said he attempted to administer aid to them.
The ICS statement said that during questioning, Bradley said he was traveling from Laredo to San Antonio, after having the tractor trailer washed and detailed at a truck stop near Laredo. He intended to take the trailer to Brownsville to deliver it to someone who had purchased it. He stopped at the Wal-Mart and heard banging and shaking in the trailer. He was surprised when "he was run over by 'Spanish' people and knocked to the ground," according to the affidavit. He realized that at least one person was dead. He said he knew the trailer refrigeration system did not work and that the four vent holes probably were clogged. He said he called his wife, but he did not call 911. He said about 30 to 40 people ran from the trailer.
____
Our original story:
At least 10 people have died as part of a human smuggling operation discovered in San Antonio, Texas, Saturday night in which 39 undocumented immigrants were found in the back of a sweltering tractor-trailer. The driver of the truck is in federal custody and was expected to be in court this morning.
Though the incident appears to be an attempt to smuggle migrants into the U.S., local police have said it is being considered a human trafficking crime.
San Antonio Police Chief William McManus said in a statement Saturday night that a truck was parked outside of a Walmart store in San Antonio when his department received a call from a Walmart employee that someone from the truck approached them asking for water.
McManus said when SAPD arrived on the scene, they found eight victims dead in the trailer. A ninth person was found Sunday morning in the woods near the store, and later died in a hospital. San Antonio Fire Chief Charles Hood said in the press conference a total of 38 people were found in the trailer, including school-age children and adults in their 20s and 30s. That number increased to 39 when the ninth deceased victim was found.
The Associated Press reported Monday morning that a 10th person had died as a result of the conditions they were in inside the trailer. A statement from the U.S. Attorney's Office of the Western District of Texas said all of the deceased are adult males.
The driver of the truck was identified by the U.S. Attorney's Office as James Mathew Bradley, Jr., 60, of Clearwater, Florida. He is being held in federal custody, and a criminal complaint was expected to be filed Monday morning. Bradley is then expected to appear in court.
According to a report from The Washington Post, the driver was working for Pyle Transportation out of Schaller, Iowa. Company owner Brian Pyle told the Post that Bradley was an owner-operator and that it "was his very first trip" for his company.
Acting U.S. Immigration and Customs Enforcement (ICE) Director Thomas Homan said based on interviews with survivors, more than 100 people could have been packed into the trailer. Surveillance footage from the Walmart store reportedly showed cars coming and picking up some of the immigrants.
McManus added that after the immigrants were treated for heat stroke and dehydration, they would then be investigated by ICE.
McManus said in the Saturday night press briefing he didn't know that there was any cargo in the trailer with the victims. The full press briefing can be seen below: