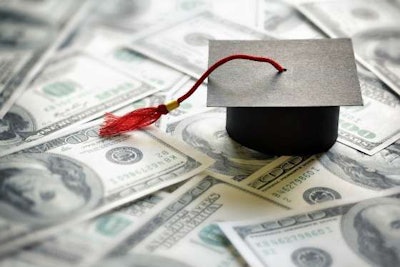 The Truckload Carriers Association gave out over $140,000 dollars to the 50 winners of its 2017-2018 TCA Scholarships.
Prospective students are able to earn up to $6,250 to put toward college through the association's annual scholarship program. TCA established its scholarship fund in 1973 and has awarded scholarships annually since.
Students attending four-year accredited colleges or universities who are either the child, grandchild, or spouse of TCA member company; or the child, grandchild or spouse of a TCA member-affiliated independent contractor are eligible for the scholarships.
Dylan Tungate from Louisville, Kentucky, won the largest scholarship, $6,250. Tungate's father works at Hendrickson USA, L.L.C. and has since Tungate was young.
"By my dad working at Hendrickson, it has taught me how to be an exceptional student and employee, which includes always showing up on time, completing every task you start, and working as a team, along with several other qualities," Tungate said.
Bailey Snow, from Lincoln, Nebraska, won the second largest scholarship, $4,500. Her father worked long hours at a grocery store while she was growing up, and also helped run a family business, which meant he had limited time home. He now works for Crete Carrier and gets to be home more often. Snow said her father's work ethic inspires her.
"My dad was a superman for so long that it was nice to see him finally find a job that made him happy," Snow said. "My dad thoroughly enjoys going to work, which is both promising and inspiring for me. His work ethic and joy for work give me hope that one day I will find a career that I can also enjoy."
NAIT $6,250 Scholarship Winner: Dylan Tungate from Louisville, Kentucky (Hendrickson USA, L.L.C.)
Past Chairmen's John Kaburick $4,500 Scholarship Winner: Bailey Snow from Lincoln, Nebraska (Crete Carrier)
Darrell Clark Wilson III $3,250 Scholarship Winner: Amanda Bryan from Starkville, Mississippi (Landstar)
Stoney Reese Stubbs $3,250 Scholarship Winner: Brady Deckard from Buffalo, Missouri (Prime Inc.)
Thomas Welby $3,250 Scholarship Winner: Cameron Dober from Savannah, Georgia (Great Dane Trailers)
Kai Norris $3,250 Scholarship Winner: Blake Quinn from Springfield, Missouri (Prime Inc.)
The following individuals, listed in order by state, were awarded TCA scholarships of $2,725:
Austin Owens from Alabaster, Alabama (McLeod Software Corporation)
Lauren Townley from Trussville, Alabama (CRST Malone Incorporated)
Jacob Deere from Peoria, Arizona (Swift Transportation Co.)
Stepanie Page from Peoria, Arizona (Knight Transportation)
Kodie Lievsay from Beebe, Arkansas (Calark International)
Colin Kozark from Springdale, Arkansas (Walmart Transportation)
Erica Jackson from Carson, California (HeartLand Express)
Gary Bogers from Celebration, Florida (Pride Transport)
Brooke Smith from Lakeland, Florida (Sunco)
Kallen McDaniel from St. Johns, Florida (Raven Transport)
Katherine McDaniel from St. Johns, Florida (Raven Transport)
Chase Beals from Grayson, Georgia (Brown Trucking Company)
Hunter Hodges from Hamilton, Georgia (Hodges Trucking Company)
Mackenzie Jeffries from Savannah, Georgia (Hendrickson International)
Tyler Wagner from Avon, Indiana (McLeod Software)
Heather Corbin from Indianapolis, Indiana (Celadon Trucking)
Emily Smith from Asbury, Iowa (Art Pape Transfer Inc.)
Brian LaValley from Springfield, Massachusetts (Prime Transportation Inc.)
Evan Kramer from Menominee, Michigan (Veriha Trucking)
Kaitlyn Kottke from Buffalo Lake, Minnesota; Kottke Trucking Inc.
Parker Scott from Windom, Minnesota (Fortune Transportation)
Kevin Schneier from Florissant, Missouri (Tri-National, Inc.)
Kathryn Ransom from Kansas City, Missouri (American Central Transport)
Grace Higgins from Ozark, Missouri (Prime Inc.)
Brittany Quinn from Springfield, Missouri (Prime Inc.)
Joseph Stowell from Springfield, Missouri (Prime Inc.)
Jeana Kerr from Bigfork, Montana (Jim Palmer Trucking)
Grayce McCormick from Hooper, Nebraska (Fremont Contract Carriers)
Bailey Kaufman from Lincoln, Nebraska (Crete Carrier)
Aaron Malkowski from Mount Holly, New Jersey (NFI)
CameronDeiderich from Hillard, Ohio (Hogan Transports)
Jeffrey Grote from Piqua, Ohio (Classic Carriers)
Brooklyn Keys from Bixby, Oklahoma (Maverick Trucking)
Caleb Gomez from Broken Arrow, Oklahoma (John Christner Trucking)
Ashley Scarantino from Pittson, Pennsylvania (Prime Inc.)
Elizabeth Cox from Cheraw, South Carolina (Best Cartage, Inc.)
Tyler Hayzlett from Mt. Juliet, Tennessee (Big G Express)
Jacob Lance from Ooltewah, Tennessee (U.S. Xpress)
Kayla Putnam from Old Hickory, Tennessee (Big G Express)
Meredith Sutton from Mechanicsville, Virginia (Maverick Transport)
Audrey Collen from Gig Harbor, Washington (Interstate Distributor)
Keenan Johnson from Lakewood, Washington (HELP Inc.)
Nicholas Kolar from Baraboo, Wisconsin (Dart)
Laura Runkel from Whitehall, Wisconsin (Anderson Trucking Service)