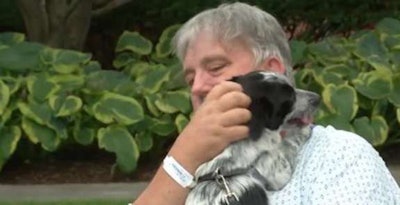 A truck driver traveling through Iowa recently had two close calls, one with his health and one with the prospect of losing the dog that rode along with him.
KCCI reports truck driver Robert Prichard had a medical emergency while driving and had to be taken to a hospital in an ambulance. He had to leave behind his canine companion, Bandit, inside the truck. when the truck was towed, Bandit was taken to a shelter.
As Prichard recovered in the hospital, Bandit faced adoption or being put down, according to KCCI. That is util two nurses visited the shelter holding Bandit and reclaimed the pup.
Prichard said, "… nobody has ever treated or helped me like these people have."