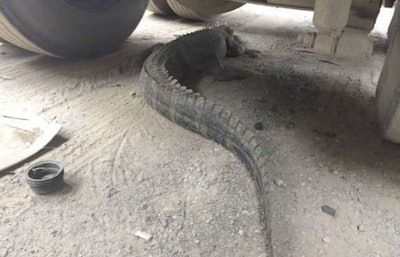 Here's proof it always makes sense to do a thorough pre-trip inspection.
Today at about 7:40 a.m., Tuscaloosa, Alabama Police were called to the Liberty Recycling Plant in response to an unwanted interloper.
Once there, the cops found a nearly 8-foot-long alligator hanging out under some poor driver's 18-wheeler.
Fortunately, members of the Tuscaloosa Police Department's Traffic Division, Lake Patrol and Tuscaloosa Department of Transportation's Animal Control were able to capture the gator, and secure it until it was turned over to Alabama Game and Fish.
It was transported to Gainesville, Alabama and released back into the wild.