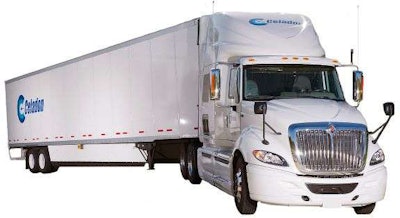 Celadon Trucking will stop operating its three driver training schools, and focus on its core business as a truckload and logistics provider. However, the company said in a statement today that an existing national CDL trainer expects to provide instruction at Celadon Driving Academy facilities InIndianapolis, Laredo, Texas and Richmond, Virginia.

The company also announced yesterday it sold its flatbed division to a subsidiary of Birmingham, Alabama-based PS Logistics LLC. Terms of the deal were not disclosed.
Both moves were made so Celadon, which is based in Indianapolis, could focus on its core business, according to statements from the company.
The company, which has some 3,000 drivers, said that while it will continue to need new drivers, but determined that using a third-party provider is a more effective way to hire them.
"Highly qualified professional truck drivers are the lifeblood of our organization,"said Celadon President and Chief Operating Officer Jon Russell "We recruit and train thousands of drivers each year and constantly evaluate the optimal mix of experienced drivers, student drivers, and driver trainers. After a thorough review, we determined that using third-party programs and making additional investments in driver compensation and advanced training would afford a better investment of resources than continuing to operate the schools ourselves. We are trucking specialists, and we will focus on our core business."
"Celadon is strongly committed to the Celadon Trucking business units (dry van, refrigerated, intermodal, and dedicated) as well as our Celadon Logistics, A&S, and other operations," continued Russell. "I'm excited at the progress we continue to make in restoring Celadon's status as a premium truckload and logistics provider."
According to a statement from the company, its flatbed division assets included in the transaction consisted primarily of leased and owned trailers, which were sold in exchange for an assumption or satisfaction of the lease obligations and cash. PS Logistics will contract with up to 100 independent contractor flatbed drivers, hire certain flatbed company drivers and operations employees, and assume certain customer contracts associated with the division, according to a Celadon news release.